The Lincoln Highway:
Tuscarora Summit to Rays Hill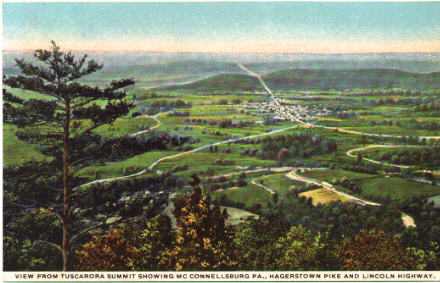 View from Tuscarora Summit Showing McConnellsburg, Pa., Hagerstown Pike and Lincoln Highway. This view remains the same today, except that the trees are thicker and the air is smoggier.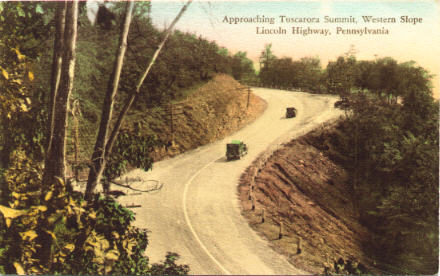 Approaching Tuscarora Summit, Western Slope, Lincoln Highway, Pennsylvania.

"More care is required on the western slope than the eastern side; the grades average steeper, and there are several sharp curves, one nearly a 'horseshoe.'" Robert Bruce, The Lincoln Highway in Pennsylvania.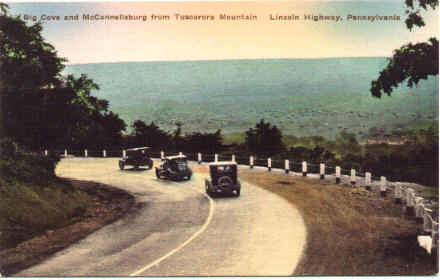 Big Cove and McConnellsburg from Tuscarora Mountain, Lincoln Highway. Even back in the 1920s, road engineers left room for drivers to park on the shoulder and enjoy the view.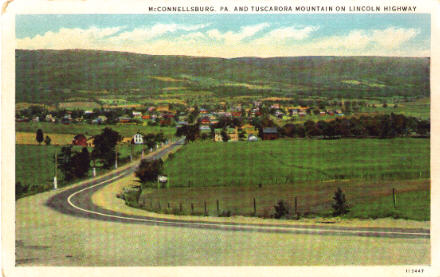 McConnellsburg, Pa. and Tuscarora Mountain on Lincoln Highway. U.S. 30 bypassed McConnellsburg in the mid-1960s, remaining on the mountains instead of dipping into the valley. A barely-marked turn leads through town and up the other side of the slope.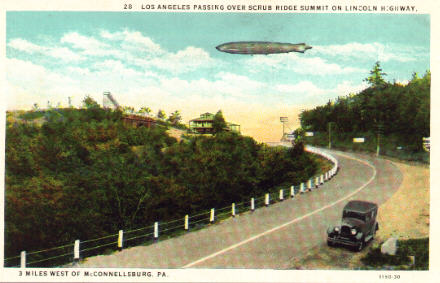 Los Angeles Passing Over Scrub Ridge Summit on Lincoln Highway.
What a great period piece! The dirigible Los Angeles flew from 1924 to 1932. The Long View Lodge stands on the summit.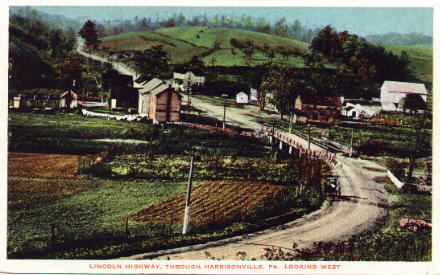 Lincoln Highway, Through Harrisonville, Pa., Looking West.

"Pop. 25. Fulton County. One hotel. Bell Telephone connects with Western Union at McConnellsburg." 1924 Official Road Guide to the Lincoln Highway.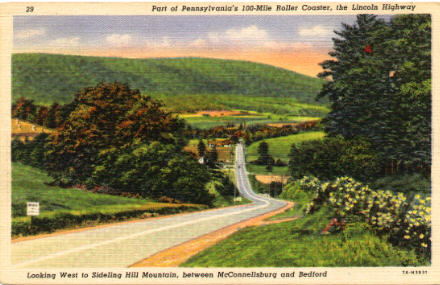 Looking West to Sideling Hill Mountain, between McConnellsburg and Bedford.

"The name is said to have been taken from the comment of either Indians or pioneer settlers about this being a 'side-long' hill; that exact lettering is found at times in the old records, 'Sideling' being a comparatively modern rendition." -- Robert Bruce.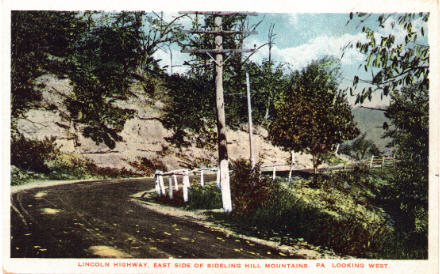 Lincoln Highway, East Side of Sideling Hill Mountain, Looking West. Most of the old Lincoln looks quaint, but this stretch looks downright scary to drive...especially coming downhill.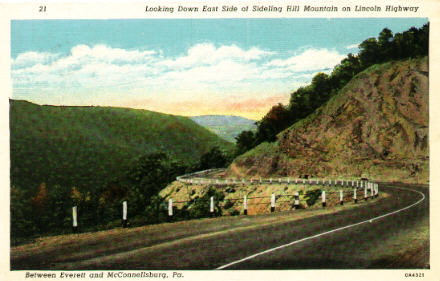 Looking Down East Side of Sideling Hill Mountain on Lincoln Highway. Card printed in 1930; text on back reads, "Years ago travelers over Sideling Hill (elev. 2195 ft.) were constantly looking out for Indians or bandits; but today there's ample time to try to solve the panoramic puzzles brought into view at each turn."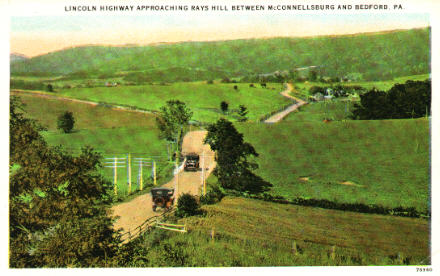 Lincoln Highway Approaching Rays Hill Between McConnellsburg and Bedford, Pa. Could they have made the road any narrower?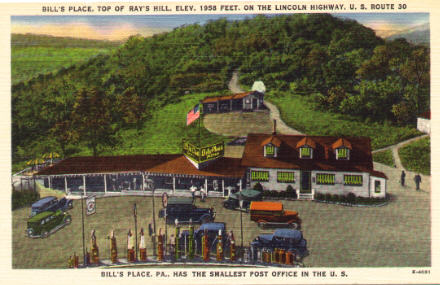 Bill's Place, Top of Ray's Hill, Elev. 1958 Feet, on the Lincoln Highway, U.S. Route 30. Bill's Place, which opened in 1923, boasted the "smallest post office in the U.S" until the postal contract was canceled in late 1953. The site was demolished in the late 1960s when the Pennsylvania Turnpike was re-routed east of Breezewood. Check out the array of gas pumps in front!

Continue west...


---