2003 Lincoln Highway
90th Anniversary Motor Tour




Times Square Kickoff, August 17, 2003



The morning of Sunday, August 17, 2003, I drove down to Times Square to greet about 30 vehicles which were about to embark on a coast-to-coast drive along the route of the old Lincoln Highway. The New York City police cooperated by closing an entire block of Broadway, between 45th and 46th Streets in front of the Marriott Marquis, between 8:30 and 9:30 AM so the travelers could assemble: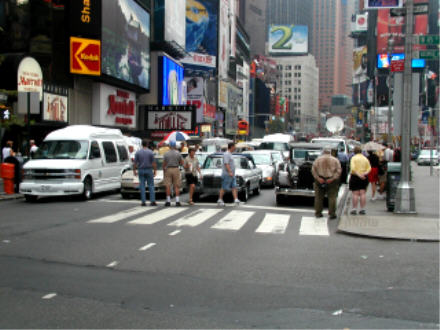 The Lincoln Highway ran from Times Square to San Francisco's Palace of Fine Arts. The route was proclaimed in 1913; fifteen years later, after the numbered U.S. Route system had replaced the earlier system of privately sponsored named highways, Boy Scouts erected concrete posts to mark the path of the Lincoln.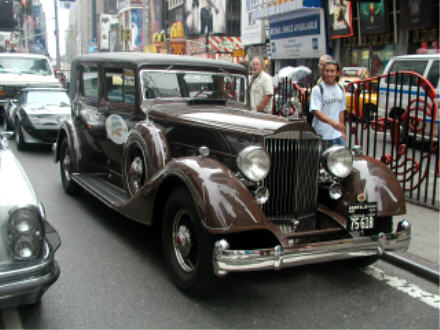 Accordingly, 2003 marks the 90th anniversary of the Lincoln Highway and the 75th anniversary of the Boy Scouts' effort. The national Lincoln Highway Association, of which I'm the New York director, is sponsoring a cross-country drive which will reach San Francisco on Sept. 1.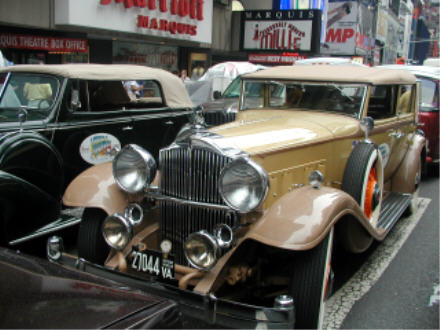 Here's the official Website for the trip. Photos from the trip will be posted here each day.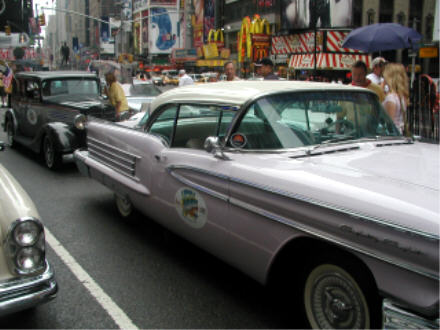 All of the cars in these photos will be driving all the way to California. Of course, the drivers also had to get from their homes to New York, and will have to return home from California, so participating in this event was a monthlong, 6,000-mile commitment. Several dozen additional drivers will participate for part of the trip.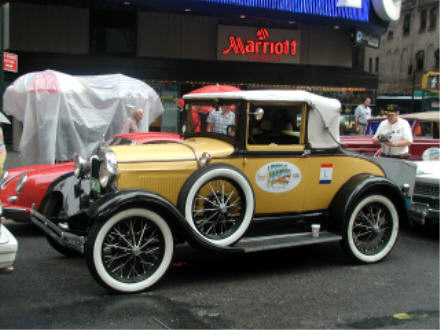 Alas, I don't have the time to accompany them, or the patience to adhere to a schedule which will take two weeks to cover a distance I've driven in three days. But I wish them well, and will be following their activities online.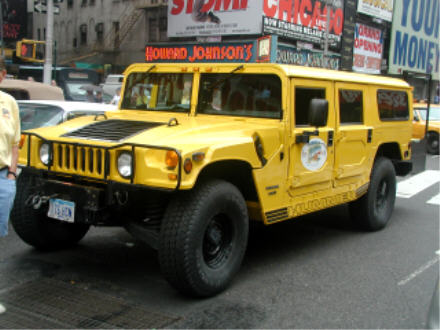 (Note the Times Square Howard Johnson's in the background of this photo. To step inside is to turn back the clock 40 years. There are now only 11 operating Howard Johnson's restaurants remaining -- a sad end to the chain that once dominated food service on Northeastern turnpikes and inspired this NRBQ classic.)


---
Back to Lincoln Highway home page
Back to ROADSIDEPHOTOS.COM home page