Saturday, May 1, 1999...

Another spring, another road trip. This one's a biggie: a two-week loop from Chicago to California and back, driving Route 66 westbound to Los Angeles and the Lincoln Highway east from San Francisco to Plainfield, Illinois, where the "Boyhood Home of Bob Barnes" signs should be up by summer.



"Who's Bob Barnes?" I hear many of you asking. This trip update's going to everyone from my mother to my employer, so nobody's going to get all the inside jokes and references. But if you went to college with me and still don't know who Bob Barnes is, it may be time to worry...

Anyhow, this trip began not with a long drive across overfamiliar territory, but with a flight to Chicago. Was lucky enough to fly out of Westchester County Airport, which has four gates, all about 50 feet past the security checkpoint. The flight to Chicago was marred by a bratty little girl behind me, about six years old. Before takeoff she alternated between counting loudly to 100 and whining "When are we going to leave?". In flight she kicked the back of my seat and sang. Her mother did nothing. Glad I'm not related to either of them.

Then got to know the Nissan I'll be inhabiting for the next two weeks. The navy blue vehicle will absorb heat like mad; I don't know why Chicago car-rental agencies can't optimize their vehicles for desert driving. A more immediate annoyance: I had brought a bunch of tapes, but the car has a CD player instead. Expect more than a few comments about local radio stations in future E-mailings.

The car had 7,247 miles on its odometer as I pulled out of the lot; I'm planning to add at least 6,000 more. Shortly before noon, I left of the airport and cruised towards downtown Chicago, ready to start my Route 66 odyssey.

The last time I drove Route 66 in Illinois, the trip started with a police escort and a live band. Crowds lined the sidewalks. But that was with the Illinois Route 66 Association's 1992 Motor Tour; this time I was on my own.

Route 66 starts at the corner of Adams Street and Michigan Avenue in downtown Chicago - directly in front of the Art Institute of Chicago, home to America's finest collection of French Impressionist paintings. A civilized traveler would take this opportunity to enjoy the fine arts before immersing himself in popular culture. I simply turned left. 100 yards past the intersection, a sign proclaimed: "Start of Historic Route 66."

My journey had begun. It was time to savor the sights and sounds of 66, to thrill to the joys of the open road. But I hadn't counted on the City of Chicago, which had blocked off half of downtown for a Polish Constitution Day parade. (Insert ethnic joke of your choice here.) One block into the trip, I encountered my first detour. Quite a detour it was: a five-block, 20-minute voyage under the Wabash Avenue El tracks. I hoped this wasn't an omen.

Once past downtown, Route 66 veers southwest on Ogden Avenue through miles of working-class neighborhoods which have seen better days. A sign at the gate of Stateville Prison (of Blues Brothers fame) proclaimed Correction Officers Weekend. A 30' high giant clutching a hot dog marked one Cicero eatery; ahead in Wilmington his brother, dressed like a refugee from "Lost in Space," cradled a rocket in front of the Launching Pad drive-in. (Good beef-mushroom-and-Swiss sandwich, too.)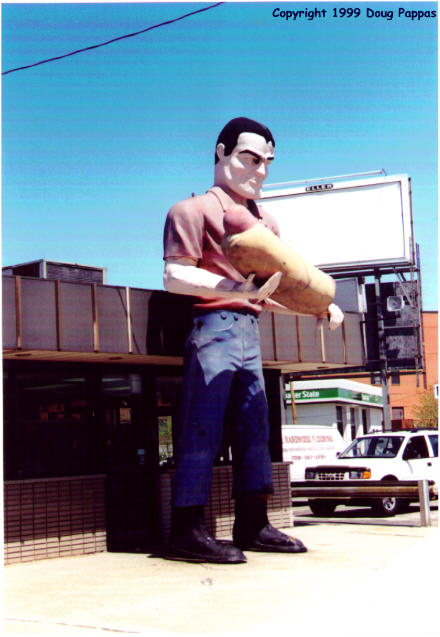 Once past metropolitan Chicago, historic 66 parallels I-55 - sometimes as a frontage road, sometimes a mile or two away. Before the Interstate was constructed, much of 66 had been widened into a four-lane divided highway, but to save on road maintenance, the Illinois Department of Transportation has often blocked off one of the two roadbeds, allowing the concrete to deteriorate. But the DOT has done an outstanding job of marking historic Route 66; I could've followed the entire route without referring to my notes.

Of course, there's no one "historic Route 66." Between its original designation in 1926 and its decommissioning in 1984, Route 66 was widened, relocated and re-routed numerous times. The official "historic Route 66 routing" follows a later version of the road that bypasses most of the small-town Main Streets which formed the spine of the original route. Until Bloomington/Normal, that is, where historic 66 zigzags through a mile of quiet residential streets before passing through the business district.

South of Bloomington, 66 passes near Funk's Grove, where for decades the locals have sold maple "sirup" to travelers. (Don't know why they spell it this way -- Illinois' version of Erie, PA's "dinors.") Then comes the Dixie Truckers Home in McLean, proud host to the Illinois Route 66 Hall of Fame. Thrill to display cases honoring long-time restaurant owners, tow truck operators, and even a highway patrolman! At Springfield, I detoured for some of the Lincoln sights -- his tomb on the north side of town, the old state capitol, his law offices -- as well as a plaque noting where the ill-fated Donner Party embarked on their journey to California. I'll catch up with them again in about nine days.

Stopped for the night on the south side of Springfield, Illinois. Tomorrow I'm shooting for Springfield, Missouri. Springfield, Massachusetts and Springfield, Oregon are a bit out of my way, so I'll have to find a new town for Monday night...
---
Go to the next day
Back to NEWS FROM THE ROAD menu
Back to ROADSIDEPHOTOS.COM home page