Sunday, September 3, 1999...

Greetings from Catoosa, Oklahoma, home of the Blue Whale, just northeast of Tulsa. Twelve hours and three states ago, I took the fast way through downtown St. Louis, bypassing the Arch and several old, decrepit bridges. I'll have another shot at 'em on the way back, though, since Routes 66 and 40 cross in St. Louis.

Southwest of town, a sign now beckons drivers to Route 66 State Park. The new park is on the former site of dioxin-contaminated Times Beach; four months ago, the road was still barricaded. Didn't return to Meramec Caverns this time -- but instead visited two classic roadside museums at the same Interstate exit. A converted Stuckey's now houses the Antique Toy Museum: thousands of toy trucks, trains, dolls, construction equipment, games, etc., most from the 1930s to the early 1960s. If you're looking for an Elvis Presley toy guitar from 1956 or a Mrs. Beasley doll from Family Affair, this is the place -- and of course there's a well-stocked gift shop.

The Jesse James Wax Museum next door offers an ominous preview of what Wright City's Elvis Is Alive Museum could look like circa 2040. The James Gang was known to have used nearby Meramec Caverns as a hideout -- a fact publicized by the Caverns since the 1930s. In 1948 a Meramec Caverns employee "discovered" that Jesse James had not been murdered in 1882, as reported in the history books.

In fact, he found James alive and well in Oklahoma, age 100, using the name of J. Frank Dalton. Mr. "James" was so alive and so well, in fact, that he traveled from Texas and Oklahoma to Meramec Caverns several times over the next few years before dying shortly before his 104th birthday. He explained that his "murder" had been staged by a conspiracy which included the Governor of Missouri, who had received campaign contributions from the James Gang. (And you thought Philip Morris's money was tainted...) The actual victim, he said, was a hapless wannabe-outlaw who hung around the James Gang.

But the indefatigable Meramec Caverns researcher didn't stop there. Perhaps suspecting that certain cynical observers might doubt Mr. Dalton's story, he located three former acquaintances of James, now aged 100, 108 and 111, who each met Dalton (with the cameras rolling, you can be sure) and subsequently attested that he was in fact Jesse James. Bet you never guessed that the ranks of Western marshals and outlaws could produce so many centenarians who remained in full possession of their faculties and able to identify someone they hadn't seen in 70 years. The museum displays wax dummies of the principal characters, blowups of 1940s newspapers proclaiming what the brochure describes as "the most authentic story ever told," and copies of the participants' affidavits.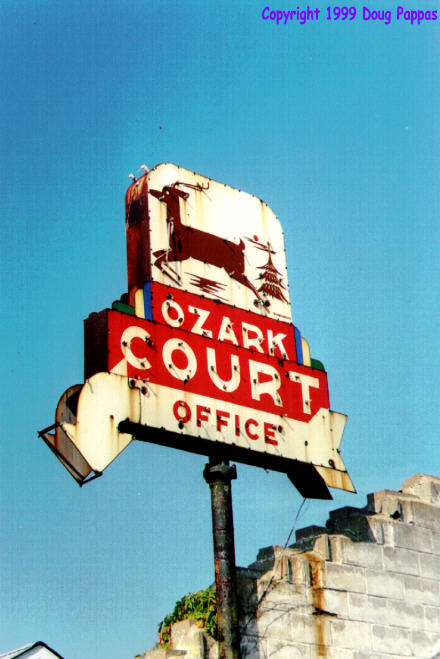 This surreal experience spoiled me for further interaction with human beings -- so my next stop was the Exotic Animal Paradise, a drive-through wildlife park just east of Springfield. Along the nine-mile drive, my car was accosted by ostriches and camels, approached by bison, llamas, zebras and longhorn cattle, and licked by deer, sheep and goats. Since many visitors buy bags of feed at the entrance, the animals have learned to associate cars with food. If the owners ever decide to close the park, they could make a fortune selling final-week tickets to lazy hunters.

Continued west through Springfield, feeling not the least bit tempted to detour to Branson, and Carthage, where the car seemed to shudder of its own volition when a Precious Moments billboard came into view. Passed the hideous praying-hands statue in Webb City, which looks like nothing more than a buried giant trying to excavate himself, cruised through Mickey Mantle's hometown of Joplin, then turned into Kansas.

As soon as I left Missouri, the skies darkened. I navigated Kansas's 15 miles of 66 in a light rainstorm, which turned into a thunderstorm when I reached Oklahoma. (Did I do something to offend this state?) Since picture-taking was now impossible, I opted for the turnpike to Tulsa -- and a chance to see another wonder of the roadside, the World's Largest McDonald's.

This two-story behemoth straddles the turnpike, with a tourist information center, gift shop and separate McDonald's gift shop (anyone for a World's Largest McDonald's frisbee?) sharing the 28,000-square-foot space. A sign inside proudly proclaims that even though the McDonald's in Beijing and Moscow can seat hundreds more patrons, this remains the chain's most massive facility. Gosh.

Tomorrow: Tulsa, tornado damage and Texas...
---
Go to the next day
Back to NEWS FROM THE ROAD menu
Back to ROADSIDEPHOTOS.COM home page