Tuesday, May 23, 2000...

Howdy from Worland, Wyoming. It's the middle of nowhere, but a lot closer to Somewhere than most of the places I passed through today.

How empty was today's route? I drove 500 miles between Interstate junctions, passing only two McDonald's en route. I encountered two stoplights in 400 miles. Northeastern Nebraska has so little going for it that even Road Trip USA, the definitive guidebook for trips of this sort (hi, Jamie!), can't find anything worth stopping for. Alas, I was six weeks too early for the one must-detour: the 20th annual Chicken Show in Wayne, featuring the National Cluck-Off Contest, appalling costumes and even worse puns ("egg-citing," "cheep fun"). Somewhere, far from the home of their youth, Nancy Nuss and Kelly O'Donnell are cringing...

I joked about reading a book while driving west -- if my laptop were a little smaller, I could've written one. I settled for scribbling a few notes while listening to local radio:

(1) May is Nebraska Beef Month.

(2) Watch for crystal meth labs in your neighborhood: they're the occupied houses with boarded-over windows, people coming and going at all hours, and a strong smell of antifreeze.

(3) Plainview is the Klown Kapital of Nebraska.

(4) I'll vote for any candidate who promises to have the FCC yank the license of any oldies radio station which plays more than two Motown songs in a half hour.

(5) Ainsworth, NE, which accurately describes itself as "the middle of nowhere," is also the proud hometown of 1995's World Champion Livestock Auctioneer.

(6) The programmer of one oldies radio station is obviously letting rural isolation get to him: back to back, he played Lou Christie's "Rhapsody in the Rain," about sex in the car at a drive-in; Van Morrison's "Brown-Eyed Girl," about sex in the field behind the stadium; and the Starland Vocal Band's "Afternoon Delight," about sneaking home for a midday quickie. Don't know whether the theme continued, since I changed the station milliseconds after recognizing "Afternoon Delight."

(7) A Texaco in Valentine, Nebraska has the highest-tech gas pumps I've ever seen: while you're filling up, the screen which walks you through the payment options displays a live broadcast from The Weather Channel.

I wanted to find a reason to stop, but even most of the small county museums were closed. The Rock County Museum in Bassett was an exception: the county had moved an old church and an old schoolhouse to a field near the long-abandoned railroad station. The complex served, in effect, as the local attic, crammed full of high school yearbooks, mementoes of long-forgotten trips and the like.

The first real stop came just miles from the Wyoming line, at Fort Robinson State Park. In the 1870s, Fort Robinson served as the hub of the U.S. Army's Indian containment efforts. Lakota Sioux chief Crazy Horse surrendered here in May 1877. Four months later, still in custody, he was killed "while resisting imprisonment." Uh huh... Fort Robinson later served as training center for the Army K-9 Corps, and still later as a prisoner-of-war camp for Germans during World War II.

Wyoming is even emptier, but much more interesting. Two miles across the state line, a sign marked the town limits of Van Tassel, Wyoming, population 8. (I would later pass Lost Springs, pop. 4, and two 10-person metropolises.) Lusk, the first real town (1,200 or so), has two claims to fame: Microsoft donated a bunch of computer equipment to the local schools and then shot a feel-good ad praising its generosity, and the town budget seems to be funded largely from the pockets of passing motorists. This is the fourth time I've driven through here; every single time, I've seen at least two patrol cars lurking in or near town to catch speeders.

Douglas, Wyoming is best known as the birthplace of the jackalope. This rare cross-breed between a jackrabbit and an antelope is never seen in the wild, but is often found on tourist postcards and occasionally seen in stuffed form. At Herrick's Big Horn Taxidermy, Jim Herrick is a third-generation jackaloper: his grandfather invented...er, discovered the jackalope some 50 years ago. Call 307-358-6523 to order yours today! No salesman will call...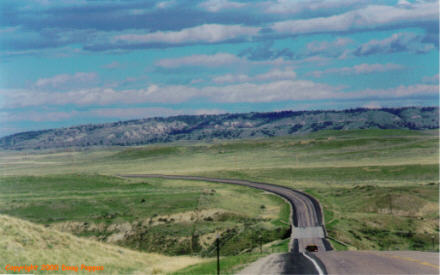 Once past Casper, a depressed oil city whose only redeeming feature is cheap gas, the view opens up and 20 becomes scenic. Snow-capped mountains are visible in the distance for the first time. The most spectacular stretch is 15-mile Wind River Canyon, where the road and the railroad follow opposite banks of a thousand-foot-deep canyon carved by the river. Just north of the canyon, Thermopolis won't let visitors forget its claim to fame: just in case they didn't notice the enormous hot spring on the north side of town, the locals have painted "World's Largest Mineral Hot Spring" in huge white letters on the side of a cliff above the spring.

Finally, when I checked into tonight's motel, the desk clerk noticed my driver's license and said "I go to school in New York." She's the daughter of the owner, an Indian (as in Asian, not Native American) named Patel; has lived in Wyoming for years and considers herself a native; and is attending NYU. I'll go out on a limb and guess that she's the ONLY Indian from Wyoming who goes to college in Manhattan...

From Worland, I'm about 2-1/2 hours from Yellowstone. As I'll be staying in or near the park tomorrow night, don't count on another update until Thursday. By then I'll be headed east, dashing down an Interstate on my way to pick up US 6 in Denver...


---
Go to the next day
Back to NEWS FROM THE ROAD menu
Back to ROADSIDEPHOTOS.COM home page