Wednesday, September 6, 2000...

Greetings from Boise, Idaho, just 50 miles from where I spent Monday night. For my next trick, I start tomorrow by driving more than 200 miles due east, but will wind up south-southwest of here.

Started today by driving from Portland to the western end of US 20, at the junction with US 101 in Newport, Oregon. Much of the Oregon coast is as spectacular as the better-known California coast -- unfortunately, I only got to see 25 miles of it before heading for the desert that will be my near-constant companion for the next three days. But I'll be back here next spring on a Pacific Coast loop -- mark your calendars for the week before Memorial Day. (This gives those of who you live on the West Coast plenty of time to arrange to be out of town before I can invite myself over.)

The eastern end of US 20 is Boston's Commonwealth Avenue. The route starts in Kenmore Square, just outside Fenway Park; if it continued another mile east it would run into the State House and Boston Common. The western end is notably less majestic: 20 ends at a car dealership, a strip shopping center and a huge Shell station on the corner of US 101. For a touch of culture, though, there's a Ripley's Believe It or Not! museum a mile or so down the road...

But the first forty eastbound miles beat hell out of Boston and its suburbs: up and down heavily wooded hills through the Coast Range en route to the central valley in which at least three-quarters of Oregonians live. The state's terrain can be depicted with five more or less vertical lines: the coast, the Coast Range, the valley, the Cascades and the desert. Unfortunately the desert occupies about two-thirds of the land.

South of Washington State, you can't get from the Rockies to the Pacific without passing through desert. Lots of desert. Some routes, like I-80/US 40 and I-40/Route 66, carried enough traffic to support interesting little towns every thirty or forty miles. Then there's Route 20, which has only two towns of any size in more than 300 miles, neither particularly interesting.

Spotted a few highlights, though:

Best-named business: "Yo Mama's New York Style Pizza," located in Sweet Home, Oregon. (Is there a sister city in Alabama where Lynyrd Skynyrd fans can congregate?) Second place: "Redneck Trailer Supplies," east of Parma, Idaho. (Fill in your own joke here: I bet we could come up with a 64-page catalogue for this fine establishment.) Third place: the Bates Motel, on the outskirts of Vale, Oregon, so decrepit you can easily imagine Anthony Perkins running it.

Most intriguing product: "Mint Compost," offered by the truckload near Albany, Oregon. About time they started flavoring it -- the regular stuff tastes terrible!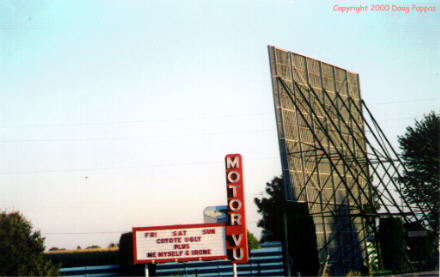 Least Politically Correct Slogan: "Vegetarian: Indian for Poor Hunter," outside an insurance agency in Parma, Idaho.

One nice historical note -- in the Cascades, a fairly new roadside marker identifies US 20's route as the one taken through the mountains by the first man to drive across the country from east to west. He did it in 1904, one year after the Wright Brothers' first flight and four years before the Chicago Cubs' last world championship. More tomorrow...


---
Go to the next day
Back to NEWS FROM THE ROAD menu
Back to ROADSIDEPHOTOS.COM home page