Sunday, May 20, 2001... Greetings from Amarillo, Texas, home of the Big Texan Steak Ranch. During law school, Bob Barnes spent a year here one summer.

Started the day in Holbrook, Arizona, where the petrified-wood vendors outnumber the Route 66 shops. As the owner of the Wigwam Village told me, in that part of Arizona there's more wood under the ground than on top of it. Didn't stop at the nearby Petrified Forest National Park, but over the next 12 hours I stopped at a half-dozen roadside souvenir stores. Either I've already bought everything worth owning, or my tastes have improved (that can't be it...), or the selection has deteriorated in recent years. Damn kids, playing Nintendo all day instead of hitting one another over the head with Official Navajo Rubber Tomahawks.

The biggest concentration of these fine establishments lies just west of the Arizona-New Mexico border, where the Chief Yellowhorse Trading Post, Tepee Trading Post, Fort Courage (how many people even remember "F Troop"?) and more jostle for the tourist dollar. In the middle of a barrage of billboards offering "great deals," one lonely vendor promises, "No Phony Discounts." Wonder how popular he is among his peers?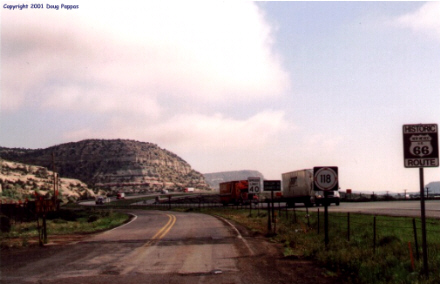 But once past the border, nothing can mar the scenery of the first dozen miles of New Mexico. 66 weaves up and down hills while the Interstate slashes through them, amidst a background of green grazing land, red cliffs and perfect puffy white clouds against a deep blue sky. Headed east, the first town is Gallup, known both as the "Indian Capital of the United States" and the place where everyone from 100 miles in any direction comes to get drunk on Saturday night. If I hadn't stopped at the Wigwam Village, I'd have had a ringside seat.

Bumper sticker of the day, eastern Arizona: "I Run Over Cowboy Wannabees."

Worst advertising slogan of the day, same area, on a feed store: "Champion's Choice -- The Choice of Champions."

Billboard of the day, New Mexico: "Microsurgical Vasectomy Reversal, Money Back Guarantee: 1-713-REVERSAL."

East of Grants, NM I was stopped at a police roadblock. Six cars-ful of officers checked the license and registration of every car on a two-lane stretch of old 66 long bypassed by the Interstate. Nobody was checking the 99% of traffic that used I-40. If they hadn't received some sort of tip, this was as stupid as proposing to spend $100 billion on the assumption that anyone trying to attack the US with a nuclear weapon would deliver it on a warhead rather than smuggle it into the country...

A few miles further on, the Acoma and Laguna Pueblos contain two of the oldest civilizations in North America. The Acoma have occupied their mesa for close to a thousand years. Nowadays, though, many members of both tribes work by the Interstate: each has opened a casino near its pueblo, housed in a building which parodies their ancestral home.

A little wishful thinking in Albuquerque: streets intersecting the University of New Mexico campus bear the names Yale, Columbia, Cornell, Stanford, Princeton and probably others. Route 66 may or may not be the "Main Street of America," but it's certainly the main street of Albuquerque, an 18-mile-long Business Loop with trailer parks at one end, two miles of mobile home, RV and boat dealers at the other, and in between, motels and restaurants flanking downtown.

With sprawling Albuquerque in the middle of the state, classic Route 66 towns have developed on either side: from west to east, Gallup, Grants, Santa Rosa and Tucumcari, spaced about an hour apart and each with long, looping Business Routes, four-lane stretches of old 66 through the heart of town, constructed before the Interstate to handle the postwar traffic. I had little trouble finding most of the motels depicted on cards in my collection -- even though some were closed (and others would be if a building inspector ever visited), few were torn down. Land here's so cheap it's almost always easier to build somewhere else.

Soon after crossing the border into Texas, I became reacquainted with the uniquely Texan system of frontage roads. This area of northwest Texas has a lot of cattle ranches, but only one main road, the Interstate. Near the New Mexico line ranchers enjoy direct access to I-40. Further on they cruise old 66, the north frontage road, waiting for a chance to merge onto the highway, while westbound traffic leaving the Interstate simply veers onto the frontage road with no ramp. As I was headed east on this same frontage road, I spent forty miles with my foot hovering over the brake, waiting to see if an exiting vehicle would swerve directly in front of me, with little or no warning, at 60 MPH. Yikes.

Amarillo's one must-stop is the Big Texan Steak Ranch, which offers a free 72-ounce steak to anyone who can eat it -- plus shrimp cocktail, salad, baked potato and buttered roll -- in an hour. I didn't try, but I did swing by the gift shop. In addition to a few items destined for December's annual tacky-gifts exchange, I picked up a can of "Texas Bull Shit Repellent." If it works, George W. Bush should sound even less coherent than usual...

On to Oklahoma in the morning!


---
Go to the next day
Back to NEWS FROM THE ROAD menu
Back to ROADSIDEPHOTOS.COM home page