Tuesday, May 22, 2001...

Greetings from Merrillville, Indiana, four states from where I started the day. I'm two blocks from the Lincoln Highway and 10 miles east of the Illinois border, ready to start the second half of my vacation in the morning.

All of you who responded to yesterday's News... indicated that you did want to receive digital images from the road, so I'm sending a Photo of the Day for Monday and Tuesday as attachments to two other E-mails. If you don't want to see 'em, just don't download 'em. If you don't want to receive them at all, let me know. The first two are "roadside" images -- as I drive back into more scenic country, I'll try to include some scenery, too.

Began the day in Mickey Mantle country, the lead-mining region of Oklahoma, Kansas and southwestern Missouri. In Afton, a church billboard proclaimed, "Dress Casual, Jesus Did" -- a directive with which I am always happy to comply. Up ahead in Commerce, OK, efforts to build a Mickey Mantle museum have apparently died, victim of the lack of commerce in Commerce has apparently doomed the effort. If Van Meter, Iowa (pop. well under 1000) can support a Bob Feller museum, you guys have no excuse.

Sampling the local radio, I soon found an "eBay of the airwaves" -- a swapmeet of sorts, a staple of small-town stations, on which locals call or mail in lists of items they're looking for or want to dispose of. Much better than what I stumbled upon in southwestern Missouri: former Congressman Bob Dornan ranting about how promiscuous American homosexuals spread HIV throughout the Third World, and now the evil UN wants America to spend millions fighting the disease in sub-Saharan Africa. I could just see the wheels turning in the head of a devoted listener: "So that means if we spend no money at all on AIDS research and treatment, soon we'll be rid of the queers and the niggers? Sign me up!" (Though to be fair, based on his sponsors Dornan's listeners spend at least 80% of their time worrying about their hearing and bowels.) One of those listeners may have lived along my path, as I passed a series of small billboards itemizing the things God doesn't like, ending with the assertion, "GOD IS ANGRY WITH THE WICKED!" None of this "God of love" or "repentance" nonsense around here...

At least Route 66 was friendly and welcoming. Kansas has made the most of its 13 miles, stenciling the 66 shield on the pavement and restoring a graceful old concrete bridge. Missouri's marked the road, too, but many of its "Historic Route 66" signs have been stolen by souvenir hunters. Increased interest in 66 hasn't helped the line of antique stores in Halltown, several of which have closed since my last trip through.

Least tempting detour: Another trip to the Precious Moments Chapel near Carthage, MO. Business name of the day: Ball Busters Billiards, Lebanon, MO. Alas, Waynesville's Tinkle Bar has closed...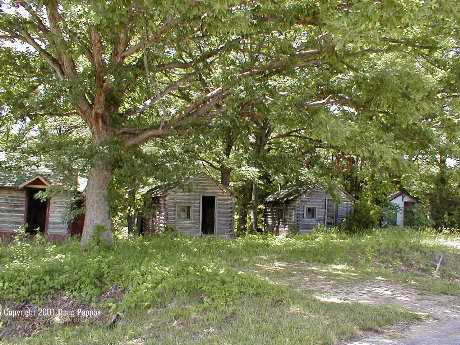 Most pathetic sweeps-month feature on local TV: WBBM-Chicago, reporting on "Women in Their 20s and 30s Who Don't Like Sex." Like I need the TV to learn about these?

66 skirts the north side of the Missouri Ozarks while keeping a safe distance from the Ozark Hell of Branson. Plenty of Ozark- and hillbilly-themed souvenir stands abut the Interstate, though...as, frighteningly, do ads for Missouri wine. Several of the more scenic stretches remain as they looked 50 to 75 years ago...and one site, the new Route 66 State Park, looks better than it has in decades. (The park land used to be the town of Times Beach, Missouri, Dioxin Capital of the World.)

As I approached St. Louis shortly before 4 PM, I knew that following the original route through town at rush hour was not a good idea. Had hoped at least to make it to the Ted Drewes Frozen Custard stand, but a nervous glance at the steadily-increasing flow of traffic persuaded me to opt for the bypass. After crossing the Mississippi, I tried to see what's been done to the Chain of Rocks Bridge -- but the improvements included a fence across the road several hundred yards from the bridge, open only when the bridge itself is open as a bike path/footbridge. Oh well.

Once again I had fallen behind schedule -- but fortunately, I've covered Illinois 66 thoroughly and had very few postcard views to duplicate. So I made a beeline for the Interstate and headed northeast, stopping only to photograph a few sites in Springfield before driving two hours in the dark.

So now I'm read to head west on the Lincoln Highway. Tomorrow's agenda: extreme western Indiana, all of Illinois and most of Iowa. Driving west instead of east will add about an hour of daylight to the rest of the trip...


---
Go to the next day
Back to NEWS FROM THE ROAD menu
Back to ROADSIDEPHOTOS.COM home page