Saturday, May 26, 2001... Greetings from Bakersfield, California -- Buck Owens and Merle Haggard country. On a Saturday night here, I should be slumped over a bar, drinking to forget heartbreak as a steel guitar echoes my pain. Instead I'm writing you. Don't you feel special?

Started the day on US 50, dubbed the " Loneliest Road in America" by Life Magazine in the mid-1980s: two towns in 250 miles, combined population under 1,000. Eureka, the first of these towns, boomed in the 1870s and 1880s. It boasts an ornate brick courthouse, in front of which a marker announces that General Motors constructed 22 miles of Lincoln Highway in the vicinity. The second town, Austin, boomed in the 1860s. Judging from the Indian petroglyphs found west of town, there may have been more residents in central Nevada hundreds of years ago than there are now.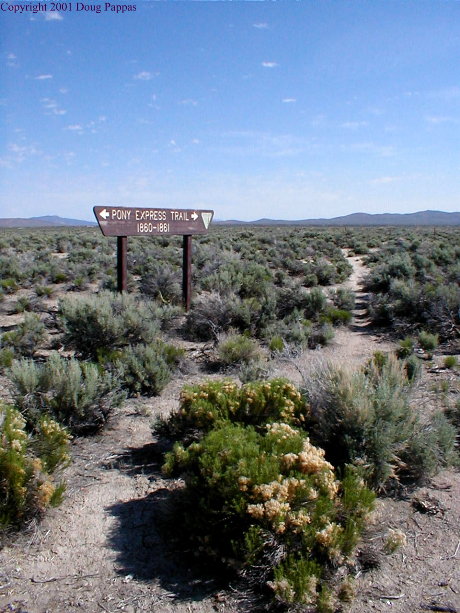 The Lincoln returns to civilization at Fallon, Nevada, home to a naval air station and a federal irrigation project which allows the locals to grow crops in the desert while condemning the evils of big government. The Lincoln runs through the heart of Reno, right under the "Biggest Little City in the World" arch on Virginia Street, on a path which mostly overlaps former US 40. Would have liked to stay longer in Reno -- a much nicer city than the parody of itself Las Vegas has become -- but not over a holiday weekend.

From Reno, the Lincoln climbs the Sierras. It pauses in Truckee, California before its assault on Donner Pass, where "an order of barbecued ribs" takes on a whole new meaning. The old roads were bypassed by the Interstate long ago, but still provide access to ski resorts and summer cottages...not to mention tremendous workouts for mountain bikers. With the help of a recent article I was able to hike to the original road over the Pass, used by wagons and explorers until the 1920s.

From there it was downhill almost all the way to Sacramento. There the Lincoln turned south to Stockton before crossing Altamont Pass and approaching San Francisco from the peninsula. I simply turned south. Southeast, actually -- between San Francisco/Sacramento and the northern end of the Los Angeles basin, California is built on a northwest-to-southeast slant. Yosemite National Park is actually due east of San Francisco, but seems much further south.

At Sacramento, I could choose between I-5, the fastest but emptiest route to Los Angeles, or SR 99, the former U.S. 99, which ran through or past every town of consequence. Easy choice. En route to Bakersfield, the last city on 99 north of greater Los Angeles, I stopped for the occasional photo opportunity. Lodi is best known as John Fogerty's idea of musical purgatory, but has a nice welcome arch a block from the Lincoln. So does Modesto, world headquarters of cheap wine and the town where local boy George Lucas filmed American Graffiti. And in the otherwise unremarkable town ot Turlock, an equipment-rental company assured itself immediate recognition by building its offices in the shape of a bulldozer. (A few miles south of me in Bakersfield is a shoe-shaped shoe repair store.)

I've come almost full circle: 2-1/2 hours tomorrow and I'll drop off the car and fly home. Four nights ago I was one long day's drive from home; now it's a 5-1/2 hour flight. Next time I'll be sure to finalize my plans before buying the ticket...


---
Go to the next day
Back to NEWS FROM THE ROAD menu
Back to ROADSIDEPHOTOS.COM home page