Saturday, September 8, 2001... Greetings from...my living room, where a week's worth of maps and park guides are strewn across my floor.

Before flying home yesterday afternoon, I had an important stop to make:  the Utah State Fair.  Sharing a celebration of small-town America with thousands of Mormon families...can life get any more wholesome?

The fair has three parts:  a carnival midway with rides, entertainment and the usual "skill" competition for oversized stuffed animals (can anyone actually want a 3' Barney?); exhibition halls showcasing Utah culture and agriculture; and dozens of booths from which vendors hawk the kind of products normally seen only on late-night infomercials.

At least six companies were offering The Last Set of Cookware You'll Ever Need.  Others demonstrated juicing machines, touted all kinds of health fraud (magnetic therapy!  "Lose Weight While You Sleep!"), or offered sheds, spas, garages and other home improvements.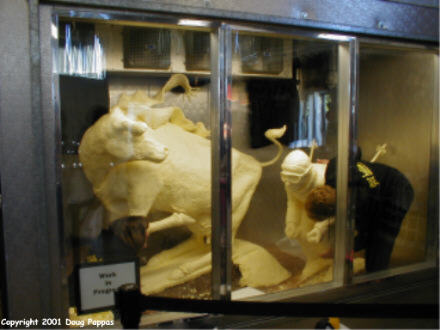 Utah photographers, painters, sculptors, and quilters competed in one set of halls, while another housed prizewinning fruits and vegetables.  In one corner of that hall, two women stood in a refrigerated case, carving a cow and skier out of butter.  Several huge barns housed the livestock competition:  sheep, goats, pigs, dairy cattle, beef cattle.  In one, a 12-year-old girl tried for several minutes to pull a Holstein 10 times her size -- it finally moved when one of her friends stepped on its hind leg.  In another, a sheep bleated nonstop, its head locked in a vise to keep it still as its handler prepared to shear it.

Some of the carnival vendors seemed out of place in Utah, which may be the nation's worst market for Tupac Shakur posters and Bob Marley T-shirts.  Even the Scientologists had a booth, which got much less traffic than the one seeking support for Tom Green...the Mormon recently convicted of polygamy, not the MTV performer whose only known spouse is Drew Barrymore.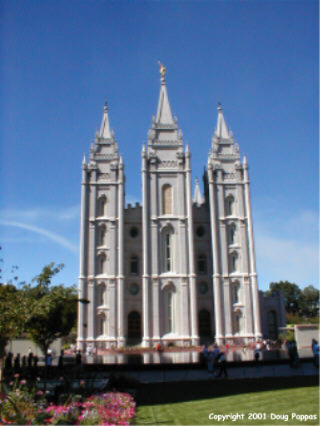 Still had some time to kill when I left the Fair, so I drove downtown to wander around Temple Square, which is for Mormons about what Vatican City is for Catholics.  Several couples were being married in the Temple, which is closed to non-Mormons (referred to locally as "gentiles"  -- Utah is the only place where Jews are gentiles), and the renowned choir was rehearsing in the Mormon Tabernacle.  The Square was full of multilingual guides who collectively comprised the second neatest group of spokespeople for a religion.  But since #1 is Louis Farrakhan's Nation of Islam, I wouldn't read much into that...

Final totals:  eight  days, eight national parks, three national monuments, one state park, one tribal park, one state fair, 268 photos (at least half of which will end up on the Web site), just over 3,000 miles driven.

Next trip:  May 18-26, 2002, when I start a West Coast loop of old US 99 and US 101, with side trips to Yosemite, Sequoia/Kings Canyon, and maybe other parks.  I'll drive the southern half of this loop in the spring, then cover Washington and Oregon around Labor Day.

---
Back to NEWS FROM THE ROAD menu
Back to ROADSIDEPHOTOS.COM home page