Wednesday, August 7, 2002... Greetings from Sacramento, California, on both the Lincoln Highway and Route 40. I'm headed east again: old US 40 from here to Denver, then up to Wyoming to follow US 30/the Lincoln Highway east to Illinois.

This morning in Needles, a front-page headline in the local weekly newspaper proclaimed, "Chamber of Commerce Functions Encompass a Variety of Activities." Gosh. The paper also contained a weekly supplement from the casinos in nearby Laughlin, Nevada, a river town popular with boaters and retirees, highlighting the local entertainment. Much of it must commute between Laughlin and Branson...but I don't think even Branson has a Britney Spears tribute band. (That should be easy: just lip-sync to her records the way she does. Some of Nevada's younger "working girls" should already have the wardrobe and the implants...)

In looping through Needles to photograph the Route 66 strip, I noticed that the Arco at the east end of town charged 30 cents/gallon less than the Arco at the west end. Made sure my tank was full, because except for a couple of isolated desert gas stations (one of which charged $2.99/gallon!), I wouldn't see a real town for 2-1/2 hours. Most of the route between Needles and Barstow is signed as the "National Trails Highway" -- actually, the National Old Trails Road, which connected Washington, D.C. and Los Angeles in the pre-U.S. Route era. Though for more than 80 years this has been a main route for drivers entering California from the east, the Mojave Desert is so inhospitable that few have ever stayed there long. Cadiz, the "town" in the photo below, is one of the two or three largest settlements in this stretch.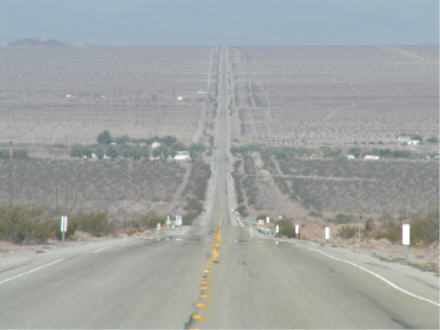 As usual, I stopped at the Barstow Station tourist trap to check out the latest novelties. One new offering is actual, recent out-of-state license plates. They're being sold as collectors' items, but I bet that more than a few have found their way onto vehicles whose drivers are up to no good. Barstow's been a rest-and-reprovisioning stop for more than a century, since it's also the halfway point between Los Angeles and Las Vegas, that status won't change any time soon.

From Barstow, I continued through slightly more hospitable desert to Victorville, where the California Route 66 Museum was closed yet again. Victorville's best-known museum will soon close permanently: the Roy Rogers/Dale Evans collection is being moved to Branson as that town continues its quest to be the one-stop entertainment destination for the over-70 crowd.




66 descends into the Los Angeles basin via Cajon Pass. From San Bernardino, it's a straight shot west to the ocean -- a straight shot marred by approximately 200 traffic lights. Driving all the way to Santa Monica would also have trapped me there just as the afternoon rush hour was starting. Like hell. I drove past San Bernardino's Wigwam Motel, which has been fixed up but still invites visitors to "Do It in a Tee Pee," and stopped at Upland's Madonna of the Trail statue before turning north.

Seven exciting hours after leaving 66 at a town with the unlikely name of La Verne, I pulled into a Sacramento motel. In between, I had to choose between the speedy but deadly dull I-5 or the modernized old road, former US 99/current California 99. Easy call. I even got a jump on next spring's road trip by following the Business Route through Bakersfield, camera at the ready.

Radio highlight: "Harper Valley PTA," sung by Jeannie C. Riley and written by Tom T. Hall. Some 20 years later, Tammy Faye Bakker reused the tune for "The Ballad of Jim and Tammy," written after her husband's ouster as head of the PTL club and before their divorce. My friend Dan interviewed Tammy Faye a couple of years ago -- when she mentioned that she didn't have a copy of her record, Dan asked me to send her one. In return I got two personally inscribed photos of Tammy Faye which will never, under any circumstances, be displayed publicly.

Old 99 is California's version of Route 66, running all the way from Oregon to Mexico as the main street of almost every town it passed through. Although nearly all the old road has been bypassed by an expressway, the earlier route remains as a Business Route. I'll be driving that, with side trips to Yosemite and Sequoia/Kings Canyon National Parks, sometime next spring.


---
Go to the next day
Back to NEWS FROM THE ROAD menu
Back to ROADSIDEPHOTOS.COM home page