Sunday, August 11, 2002... Greetings from home...no thanks to an inattentive woman from Fayetteville, Arkansas.

Our paths crossed this morning. Rather, our paths intersected. If they had simply crossed, there would have been no problem. I had just eaten breakfast and was driving north toward the Interstate. She was driving south, on the other side of a six-lane divided highway. She wanted to turn left. Oblivious to the fact that I and the other northbound vehicles had a green light, she decided to turn left just as I entered the intersection. I swerved to the right in hopes of avoiding her, but she plowed head-on into the left side of my car just in front of the rear wheel.

Five feet further back and she would have missed me entirely. Five feet further front and I'd probably be writing this from a Des Moines hospital. The rented Mazda, unlike my VW, didn't have side air bags, but from the condition of my car at the point of impact she was driving slowly enough that even if she had broadsided me right in the driver's door, she wouldn't have done much more than break my left arm and bang me up a bit.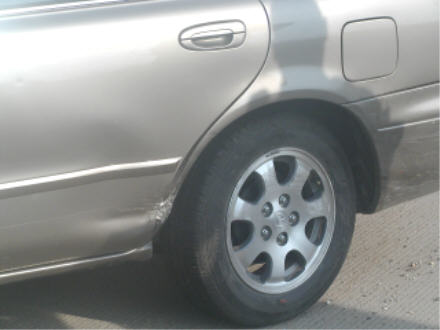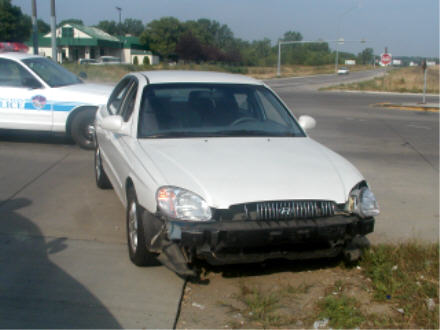 As it was, I barely felt a thing and hopped right out of the car, unhurt. The impact had spun me around almost 180 degrees. The only damage to my car was at the point of impact: the left rear door was banged up and the left rear wheel had been knocked out of alignment. Moments later, a car that had been behind me stopped to be sure I was okay. Its driver and passenger both confirmed that the light had been green -- the other driver simply wasn't paying attention and turned obliviously into oncoming traffic.

When I first spotted the other driver after the accident, she was talking on a cell phone. I couldn't be sure she had been on the phone when she turned into me, but if she hadn't, she's an awfully quick dialer. As another potential distraction, she also had a small dog in a carrying case on the front seat next to her. She and the dog were also unhurt, but every piece of metal at the front of her car was damaged. The bumper had fallen clear off, the left front headlight was hanging loose by a wire. We exchanged contact and insurance information while waiting for the police, then waiting for the tow trucks.

Meanwhile, there was the little matter of my flight home. The accident happened around 8:45 AM; I had a 6:50 PM flight from Chicago, 330 miles away. Hertz came through with flying colors. One call to their toll-free number to report the accident and they sent a tow truck for the car and a taxi to bring me to the Des Moines airport to pick up a replacement. By 10:45 I had completed the necessary paperwork, reported the accident to my own insurer, and was off again on the final leg of my journey. Instead of a Mazda with Iowa plates rented in Chicago, I was now driving a Toyota with Nebraska plates rented in Iowa.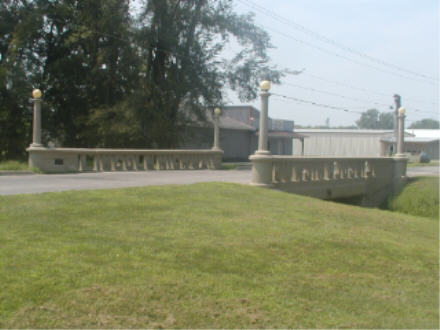 I could have hopped on I-80 and headed straight to O'Hare, but that would have been wrong. I was here to drive the Lincoln Highway, and dammit, I would drive as much of the Lincoln Highway as was now feasible under the new time constraints. I drove up to Ames and turned east on the Lincoln through Nevada (ne-VAY-da, not ne-VAH-da), up and down the rolling hills of Iowa farmland, over the vintage-1915 Lincoln Highway Bridge in the photo, and past the vintage gas station and Lincoln Cafe in the small town of Belle Plaine and back to the Interstate the rest of the way to Chicago.

Final totals for this trip: nine days, two cars, about 5,000 miles driven and 480(!) digital photos taken. If two-thirds of these ultimately end up on my Web site, and I save three minutes per image by not having to scan it from a photo, this trip will have saved me 16 tedious hours of scanning.

News from the Road will return next spring, when I will finally drive up and down the Pacific Coast states on US 101 and old US 99. Keep checking the Web site for updates -- unless Major League Baseball goes nuts again in the offseason, there will be several thousand new images on the site by then...


---
Back to NEWS FROM THE ROAD menu
Back to ROADSIDEPHOTOS.COM home page