Wednesday, September 10, 2003... Greetings from Bellevue, Washington, just east of Seattle, where I'm spending the night courtesy of a friend from college and his wife. Thanks, Matt and Bonnie.

I'm not sure where I'm headed in the morning, because a second day of rain has caused me to throw my itinerary out the window. This is a vacation; I'm supposed to be enjoying myself, and spending two days driving through rain which makes travel annoying and photography all but impossible is far from enjoyable. Among other things, I figure that the slower travel speeds necessitated by the rain has cost me the equivalent of 90 minutes/day of travel time.

I didn't finish old 99 today as planned. It was drizzling when I left Portland, raining harder further on, and positively pouring as I headed north from Seattle toward the border. I was also far enough behind schedule that any weather-related delay would have kept me from arriving on time for tonight's Mariners-Rangers game. So I said "screw it" and turned back to Seattle.

Where I go tomorrow depends entirely on the weather. I will not be driving US 101 as originally planned: since that drive starts with Olympic National Park and includes the Oregon coast, it's simply not worth driving in rain/overcast/fog. If it's sunny tomorrow I'll drive north to finish 99. then south to see Mt. St. Helens. If it's overcast with promise of clearing, I'll drive south to St. Helens and the Columbia River Gorge. If it's overcast with no promise of clearing, I'll get the hell to the other side of the Cascades as fast as I can and look for swomething to do in the desert. I need to be in Burlingame, CA Saturday night; how I get there is entirely up in the air.

Today's drive started in Vancouver, Washington, just north of Portland. I spent several hours driving north to Olympia, the state capital, then Tacoma, the Official Butt of Regional Jokes. A town whose economy has long revolved around lumber, Tacoma's always been picked on by its sophisticated neighbor further up Puget Sound. (However, the best song I know about Tacoma, Neko Case's "Thrice All American," is better than anything I've heard about Seattle.) After stopping to photograph a long-time roadside icon, the coffeepot-shaped "Bob's Java Jive," I turned north and aimed for Seattle.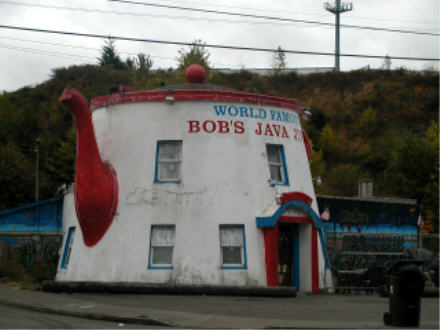 The towns between Seattle and Tacoma include Sea-Tac, apparently named for the regional airport, and Federal Way, named for US 99 itself when it was first laid out. The commercial strip along old 99 runs a good 15 miles south of Seattle, a good 20 miles north of town, passing directly through downtown Seattle on the Alaskan Way Viaduct, which offers great views of the harbor and downtown. Further north, the rain grew harder and my patience wore thinner. I turned back for the ballgame, arriving a good hour before the time set to meet up with friends.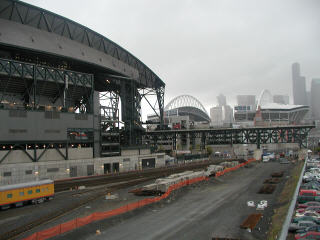 Everyone arrived on time and we headed into Safeco Field. Even with the retractable roof closed throughout the game, the park was much nicer than its predecessor the Kingdome, which was the most unappealing place I've ever seen a major league game. The game, a pitcher's duel, was progressing nicely until a bank of lights when out. Then another bank went out, leaving the scene depicted in the accompanying photo. I''ve been to a no-hitter and to a game which was almost forfeited for fan violence, but this was my first power failure game.

Then drove to Matt's place, met his wife of five years for the first time (gee, think I ought to get out here more often?), and stayed up talking with them until about 12:30 Pacific/3:30 Eastern time. Then I checked and responded to E-mail, then started writing this trip report. Now I'm stopping the trip report. I'm tired. Later...



---
Go to the next day
Back to NEWS FROM THE ROAD menu
Back to ROADSIDEPHOTOS.COM home page