Saturday, September 13-Sunday, September 14, 2003... Greetings from...my apartment, where another trip has come to an end. Final totals: 3,367.2 miles driven, 130 photos taken, roughly 600 miles of Washington and Oregon coastline bypassed for weather reasons. I'll be back there soon enough...

Started yesterday by driving southwest from Grants Pass, OR to Crescent City, CA on US 199, then heading south through redwood country. (A reminder: redwoods, found along the northern California coast, are the tall, thinner ones, sequoias, found further south and east, are the shorter, much wider ones.) Unlike the general rule elsewhere, Redwood National Park does not contain the most scenic drives through the tall trees; those are to be found further south, at Humboldt Redwoods State Park.

But the state park doesn't abut Trees of Mystery. A naive tourist might believe that humans couldn't improve upon the sights available from any drive or footpath. Think again. Trees of Mystery announces itself to passing drivers with a 49' high statue of Paul Bunyan and matching Babe the Blue Ox. (How better to honor tall trees than with a statue of a lumberjack?) This Paul, unlike most of his Minnesota replicas, even talks! Upon paying admission and entering the grounds, visitors are immediately confronted by carvings sculpted from the corpses of more deceased redwoods, while hokey narration and Muzak augment the sounds of Nature. The path winds around a number of funny-looking trees -- notably the Cathedral Tree, nine redwoods growing together, which management thoughtfully makes available for weddings.

Unsurprisingly, nearly every square mile not protected as a state or national park is being used for lumbering. Judging from the storefronts in and around towns like Garberville, most of the other miles are probably being used for illicit marijuana growing. These towns have the highest (pun intended) percentage of dazed-looking, pierced-and-tattooed 18-25 year olds, wearing T-shirts, sandals and hemp jewelry and with no visible means of support, than anyplace else this side of the parking lot at a Phish concert.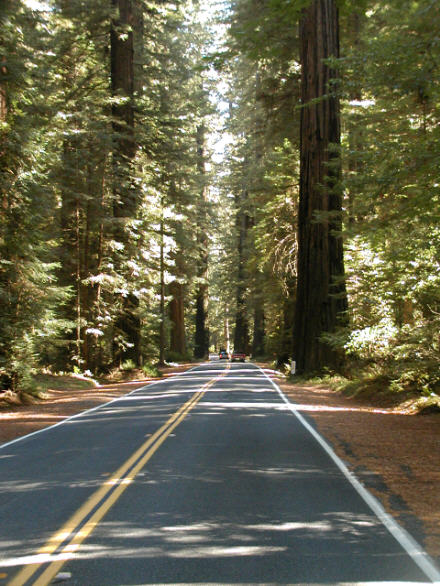 For about 30 miles, the Avenue of the Giants through Humboldt Redwoods State Park passes through groves of trees so dense that I had to use my headlights -- sometimes even the high beams -- at 2:30 on a bright, sunny afternoon. The cars at the bottom of the photo above show both the darkness and the size of the trees. Just after one of the groves, the Shrine Drive-Through Tree at Myers Flats offers the classic tourist photo opportunity: Dad driving the family car through a live redwood. A few feet away stands the related photo opportunity, a stump that can be driven on.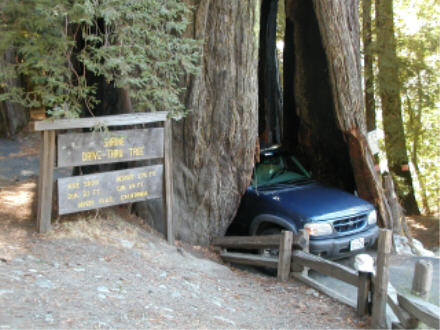 South of the redwoods, 101 traverses largely agricultural land en route to the wine country of Napa and Sonoma Counties, alternating between limited-access freeway and multi-lane road and steadily picking up traffic volume. It crosses San Francisco Bay on the Golden Gate Bridge...then comes to a screeching halt as 101 spends several agonizing miles on local streets. From southern San Francisco, current 101 is a high-speed freeway, but the old route remains as Bayshore Boulevard and El Camino Real.

Stopped for the night at a friend's place in Burlingame, then headed down to the airport this morning. For once I have no idea what next year's trips will entail: current candidates include a return to the Northwest to finish what I didn't get to this year; a drive across Atlantic Canada; and swings through Arizona/New Mexico or Colorado/Wyoming/Montana. All suggestions are welcome.

News from the Road will return in May 2004. Until then, keep in touch!


---
Back to NEWS FROM THE ROAD menu
Back to ROADSIDEPHOTOS.COM home page