Monday, May 28, 1990...

As I brought my bag out to the car, I discovered that the Glenn Miller Orchestra was staying in the same motel! Glenn, of course, missed this concert, as he has all others conducted under his name in the last 45 years. Alas, their bus left just before I could get a photo. Drove through the western suburbs and into farm country -- lots of rolling hills and small towns.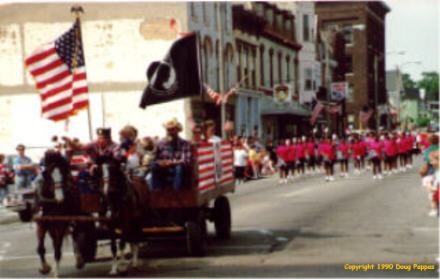 First highlight of the day: the Memorial Day parade in Freeport, IL, the site of the second Lincoln-Douglas debate. It was a real slice of small- town Americana: three marching bands from local high schools, local politicians, Miss Freeport (and Miss Black Freeport), veterans' groups, and the whole town standing on the sidelines cheering for the 20 or minutes it took for the parade to pass by. I continued on towards the Mississippi, pausing for a scenic overlook where the State of Illinois had erected a 75' high observation tower with panoramic views of the beautiful agricultural countryside.

Then I visited the Ulysses Grant Home in Galena, a well-preserved old lead-mining town near the Mississippi that's full of antique shops. If I'd had half a day, I might've stuck around longer, but I settled for a 20-minute to one store full of old records and postcards. I bought about 30 cards, half for sending and half for the collection.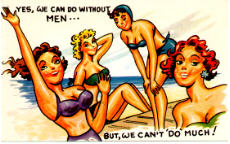 [Here are two of the "comic" cards I found in Galena:]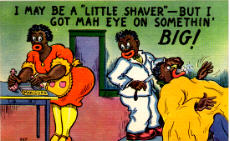 I crossed the Mississippi, pausing briefly to survey Dubuque, before continuing. Unlike Illinois, Iowa had built US 20 into a main route, moving it away from the center of towns and turning it into a limited-access freeway in some spots. The old road remained obvious, though: Main Street in most of the small towns.

What I'd planned as a 10-minute stop in Dyersville grew to about an hour and a half. The original plan was to visit the 3,825-person town's 212' high Catholic basilica, erected over 100 years ago. On my way off US 20, though, I spotted the National Farm Toy Museum just off the highway. My curiosity piqued (what's the difference between a farm toy and other toys, anyhow?), I stopped. Turns out the difference is that farm toys are scale models of farm equipment...the displays were good enough to hold my attention for 15 minutes and to enthrall the children present for quite a bit longer. I was a bit surprised that none of my reading had turned up this museum, which had been open for a couple of years.

While in the Farm Toy Museum, though, I saw the real prize...a map on the wall showing me the way to the Field of Dreams, the Iowa cornfield where the movie was filmed. The owner had kept the baseball field just as it was in the movie (except that he originally planted crops in the left field, which is slated for restoration shortly). It was about five miles out of town on a variety of winding roads...fortunately, someone had nailed directional signs in the appropriate locations!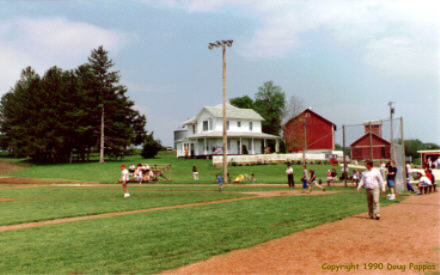 The field itself was everything I could've asked, right in the front yard of the farm. Because of the holiday, about twenty cars were there and some people were even using the field for a game of baseball. I parked near a North Dakota car with "CUB FAN" license plate. (Probably not a lot of demand for that one...) The one concession to tourism was a souvenir stand and soft drink machine; I bought a special T-shirt available nowhere else, and lingered at the Field of Dreams for about half an hour, talking for a while to a local Iowan and his wife, an ex-nun who had been assigned to New York for a few years, about the differences in lifestyles. Everyone at the Field of Dreams had a huge smile on his or her face...the farmer deserves a medal for maintaining the field this way!

[Ten years later, things had changed. Click here to read how.]

I got lost trying to find my way back to US 20, but didn't really mind. The farm country of northeastern Iowa is truly spectacular, and even more so if you're on a narrow two-lane road with no traffic. After a few wrong turns I found US 20 again, but about seven miles east of where I'd originally exited. This time I stuck to the main road for over 100 miles, receiving a warning from an Iowa state patrolman for my part in a four-car caravan that was clocked at 61 in a 55 zone. Even the policeman was friendly and pleasant, asking me how I liked the state as he handed me the warning.

The next stop was at "Boondocks USA," a truck stop/restaurant/motel at the intersection with I-35 that has kept an excellent sense of humor about itself. Not only did it have the first new line of humorous postcards I'd seen in years, but it offers Boondocks USA T-shirts and paraphernalia and displays some funny stuff outside on its lawn. A nice touch. On a more serious note, it also displays a poster for the ballroom at Clear Lake where Buddy Holly played his last concert. I continued on US 20 all the way across the state -- which is much further than it looks on a map! -- finally reaching Sioux City at about 10:00 PM.


---
Go to the next day
Back to Old Road Trips menu
Back to ROADSIDEPHOTOS.COM home page