Monday, June 3, 1991...
SOUTH DAKOTA!!! Made my favorite road trip drive today, though it was marred by a rainstorm that hit just east of Murdo. I didn't see the sun for the rest of the day, and almost the whole time was spent in rain ranging from light drizzle to a nasty thunderstorm. As a result I skipped the Badlands, and might not even see Mt. Rushmore.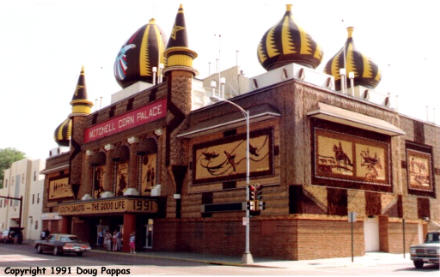 But I did hit most of the highlights, including some stuff I hadn't seen before. The Corn Palace was newly decorated for '91, and outside the Palace, I found a copy of Solo R.F.D., a singles magazine for rural Iowa, Minnesota, South Dakota and Nebraska: a lot of ads from very overweight people and prisoners, and solicitations to marry Filipinos and other Orientals. I'll give it to Steve O. as a joke...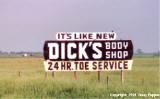 The road signs were as good as ever, advertising sights three to five hours off. Radio Station KTWB, 102.7: "Outlaw Country: Hit Kicking Music." "We Dakotans Reject Animal Acivists: Fur, Games, Fish and Livestock Are Our Economy." When a Pierre radio station announced that a semi-full of twine had just arrived and was being sold at deep discount; I almost called to suggest that someone wrest the World's Largest Ball of Twine title from Darwin, Minnesota.
Stopped at the Old West Museum for the first time: a huge collection of just about everything that could be bought at estate sales, including household items by the hundred, cars, tractors, etc. Not recommended as highly as the Pioneer Auto Museum in Murdo (or the 1880 Town, later today), but I learned a lot about the tourist-trap business talking to the son of the proprietor.
The place opened in 1969, a dozen years after the founder began collecting. It's now on the market for $1.5 million, but I can't imagine anyone would ever pay that much. At $4.25 per undiscounted adult admission, you'd need about 50,000 admissions/year just to cover interest and the most basic costs. Moreover, advertising's a perennial headache: radio and TV don't reach the tourist, who's only attracted by highway signs. But the signs run $8,000-$10,000 each, plus $500/year or so to the farmer whose land they occupy; billboards are limited to one every 660 feet and only within three miles of an incorporated area; and there's always more talk about tightening the billboard laws further. Without the billboards, places like this would be out of business in no time.
He also confirmed that South Dakota's small towns are dying. The state as a whole about broke even during the Eighties, but the only places that grew were the "big cities" -- Sioux Falls, Rapid City, Aberdeen, Brookings. Even Chamberlin, which at about 2200 was decent-sized by South Dakota standards, was losing people. The trend toward farm concentration was exacerbating the problem, since bigger farms on the same land mean fewer farmers, which in turn means fewer townspeople are needed to service them. The nature of some of these towns was brought home to me at Murdo, which as of 1980 had 770 people; even though it's right on an interstate and has about ten motels and a significant tourist attraction, there are only about three paved streets in the entire town.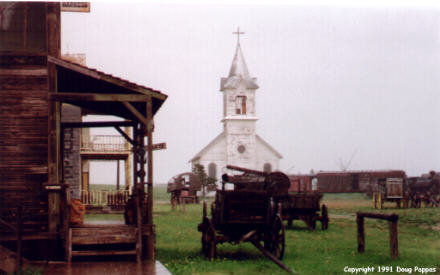 I also stopped at the 1880 Town, west of Murdo, built in the early Seventies by a man who had bought the corner lot off the interchange for a gas station. It's still growing, as old buildings from around the state are bought and added to the mix, and got a big boost last year when it acquired lots of the props from Dances with Wolves. The person behind the counter wasn't nearly as forthcoming with information, though, as the Old West Museum proprietors. I rate it above the Old West Museum but behind the Pioneer Auto Museum, though I saw it in a driving rainstorm which led me to run from building to building.
Naturally I stopped in Wall for half an hour, browsing the collections. Their postcard selection has grossly deteriorated since '85; maybe back then they'd just bought out the inventory of some "comic" postcard publisher, but now there's little more than jackalope cards. With the rain continuing to fall hard, I bypassed the Badlands and Mt. Rushmore, driving directly to Custer for a look at Flintstones Bedrock City and what looked to be an excellent record shop, specializing in old C&W. Unfortunately both were closed by 6:20, so I reluctantly continued to my motel in Hill City.
---
Go to the next day
Back to Old Road Trips menu
Back to ROADSIDEPHOTOS.COM home page