Thursday, June 6, 1991...
Started today by crossing to the eastern side of the Rockies via 11,990' Loveland Pass on US 6 rather than through the Eisenhower Tunnel on the Interstate. The peak of the pass had received another inch or so of snow overnight, adding to the fun and excitement. Today would be dedicated to ghost towns and historic mining towns. First stop was the turnoff for St. Mary's Glacier and the ghost town of Alice; but after I drove ten miles up the rutted (but paved) road, I decided the hike to the glacier was too far. The town of Alice had also been overrun by development connected with a ski resort, leaving few traces for us sightseers.
Next stop: Idaho Springs, site of the Argo gold mine and processing plant. This plant, opened in 1913, is the only one on the National Register; it's been closed for years and now offers tours of the plant and a nearby mineshaft, plus allows us tourists to pan for gold from the huge heap of mine tailings on site. They say there's at least $4 million in gold in the tailings, but it would be more expensive to collect than it's worth; besides, it's much easier to let us tourists pay $5 for a quick lesson in panning and the chance to collect a few small flakes for ourselves. I enjoyed the mine tour and did come away witih a tiny flake of gold to bring home.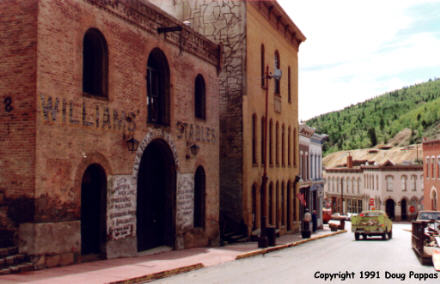 Then came Central City, another old mining town I'd visited in 1988. But since then voters had legalized "limited" gambling -- blackjack, poker and the slots, $5 maximum bet -- here and in Cripple Creek, with "a portion" of the proceeds dedicated to historic preservation. What a crock. To begin with, this "portion" will probably amount to the same "portion" the Atlantic City locals have enjoyed. Moreover, much of the history worth preserving was being destroyed by development, speculation and "preservation" which made the town look like a slightly more authentic Disney attraction. Lots of the local restaurants were closing, and the local real-estate office posted an article which reported on the boom in Central City real-estate sales. Don't think I'll have any reason to return here.
Next came Buffalo Bill Cody's grave atop Lookout Mountain, in Golden. When Cody died in 1917, this was probably the showcase site of the region, but since then pollution has cut down the view and civilization has encroached. The site also contained a Cody museum -- decent, but nothing to compare to the one in Cody, Wyoming. Cody died in Colorado while visiting relatives, at a time when he was virtually broke. This prompted a bidding war for his body, with Colorado interests paying his wife for the privilege of burying him here and National Guardsmen monitoring the site after angry Cody residents threatened to steal the corpse.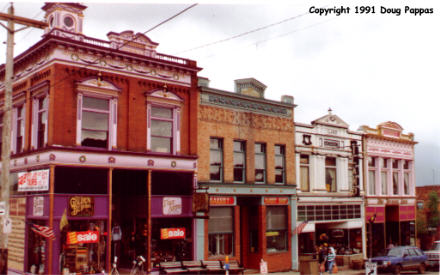 Driving south, I wasn't sure if I had time to see the Colorado Springs sites and also visit Cripple Creek, but the weather made the decision easy. Since Pike's Peak was closed and rain made the Garden of the Gods and Will Rogers Shrine of the Sun pointless, I pushed on to Cripple Creek. It's undergoing the same "renovation" as Central City in preparation for its future life as a gambling Mecca -- including many signs posted in windows announcing the owner's application for a liquor license -- but since there's more to the town, it won't be quite as obnoxious.
By the time I returned to Colorado Springs, the rain was as hard as I've seen in years. I had enough time to visit the ironically-named Shrine of the Sun, but couldn't see a damned thing once I got there, so I headed for my friend Wendell H.'s apartment to meet him and some friends for dinner.
As I'd expected, walking into Wendell's apartment was like stepping into the Twilight Zone. Right opposite the entryway was a framed poster from Shirley MacLaine's movie about her New Age experiences; inside were framed posters of Lucille Ball in Mame and The Big Chill. Wendell has at least as many New Age books as I have baseball books -- not to mention his collection of conspiracy-theorist books on both fringes, from None Dare Call It Conspiracy and It Didn't Start with Watergate to Barbara Honegger's book on Reagan and the Iran hostages, and at least 150 self-help audiocassettes of one form or other, essential parts of his burgeoning career as an Amway distributor. After dinner I continued on to Limon, one and only town on the Colorado prairie east of Denver.
---
Go to the next day
Back to Old Road Trips menu
Back to ROADSIDEPHOTOS.COM home page