Saturday, June 8, 1991...
Started today at the Truman Library and Museum. After his Presidency, Truman supervised fundraising for the facility, then maintained an office here for nine years. The Museum contains mementoes from his career, including a replica of the Oval Office for which Truman personally recorded the narration. President and Mrs. Truman are buried in the courtyard. (Road-related tidbit: in the early 1920s Truman, then a local judge, served as president of the National Old Trails Association. Parts of its "National Old Trails Road" later became US 40 and Route 66.)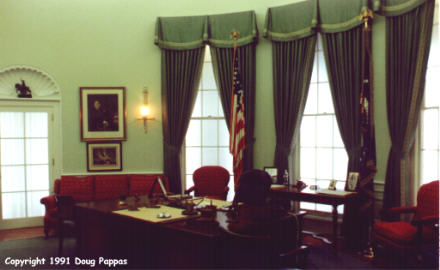 Driving across Missouri on I-70, I spotted a small billboard outside Warrenton, Missouri, advertising a dealer in Civil War materials, maps and Americana. What a find! The store was full of just about everything imaginable between 50 and 150 years old and made of paper, and the owner was lots of fun to talk to. I picked up an account of Butte, Montana circa 1913 for my father; bought a 1924 road map of New York State suitable for framing, for myself; and added my name to his mailing list for anything road travel-related. I was in the store about 45 minutes; but could easily have spent half a day.
Had planned to detour southeast at St. Louis for a few more photo opportunities, but after driving 15 minutes I realized this wasn't going to work. Instead I followed I-64 from St. Louis for about 400 miles, sped along by the opportunity to keep pace with three other drivers who were cruising at between 80 and 90 MPH. I briefly pushed the car up to 105 with plenty of power in reserve. 700 miles today, and another 600-plus set for tomorrow...Alas, the sightseeing's over and it's time to go back to work...
---
Back to Old Road Trips menu
Back to ROADSIDEPHOTOS.COM home page