Wednesday, April 22, 1992...
Down the west coast of Florida, stopping just north of the Keys. The day began with a drive through miles of strip shopping centers from Tampa south to Sarasota. This entire region has been growing so fast, every available inch is being filled in by developments and convenience stores. In Sarasota, I was faced with a choice: either visit the Ringling Museum and mansion, or cross the street to the unimposing structure housing Bellm's Cars and Music of Yesterday. Easy call. Who needs circus art anyhow?
Bellm's is an old-fashioned museum displaying old-fashioned collections. First comes a display of 200 restored antique and classic cars - a decent, though not spectacular, collection. A penny arcade near the cars lures spare change for dozens of strength testers, fortune tellers, and other relics of bygone beach resorts. An elderly guide then walked me through close to 2,000 antique music machines: dozens of cylinder photographs, old-style music boxes, player pianos, and elaborate, lavishly decorated 19th-century European mechanical orchestras of the kind imitated at House on the Rock. Most of these devices still played when activated by the attendant. I was suitably impressed.
Continued south through Fort Myers, stopping to visit the Shell Factory north of town and the Koreshan State Historic Site in Estero. The former is a standard tourist trap; the latter is one of a kind. Koreshan founder Cyrus Teed taught that humans lived on the inside surface of a hollow earth, with the sun and planets at the center. Koreshans practiced celibacy and signed over all their worldly possessions to the community, two doctrines which doubtless contributed to the sect's inability to attract converts.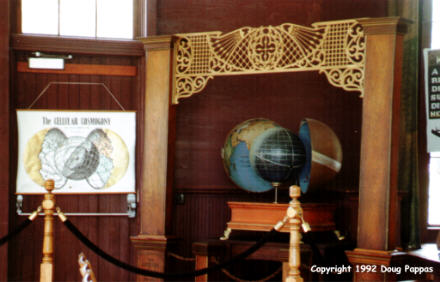 The Historic Site preserves many of the Koreshans' buildings and gardens, including their hilarious model of the cosmos. Even while men were landing on the moon, the last stubborn Koreshans believed that with the right equipment, on a clear day Americans could see Europe and Asia by staring at the sky! A nearby building houses their foundation and library, modestly known as the World's College of Life, which continues to perpetuate the teachings.
Then in Bonita Springs, I visited Everglades Wonder Gardens -- I'd been leaning towards Jungle Larry's African Safari, further down the road, until I saw the 1950s-era signage in front of the Wonder Gardens. Wasn't disappointed either -- entering the Gardens felt like turning back the clock to before I was born. Lots of gators and crocs, plus exotic tropical plants, birds, Florida panthers, jaguars and a baboon, with the larger animals housed in cages that looked considerably smaller than optimum.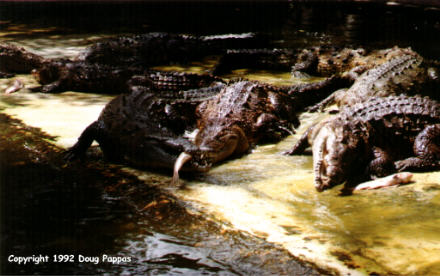 As I crossed the Everglades on Florida's southernmost through road, I stopped for an airboat tour of the Glades. The 25-minute ride offered excellent views of a half-dozen semi-submerged alligators, as well as some of the Glades' bird life and a lot of its plant life. Then continued on US 41, following it into the heart of Miami (I practically vomited upon seeing that West 12th Avenue has been named for Ronald Reagan), north along Route 1 for a mile or so (a turn which wasn't marked at all; I caught it only by looking at the map), then across to Miami Beach. US 41 finally ends two blocks short of the ocean, at the intersection with Route A1A, which becomes the coastal route from that spot all the way to Jacksonville.
One road down - tomorrow I start US 1!
---
Go to the next day
Back to Old Road Trips menu
Back to ROADSIDEPHOTOS.COM home page