Friday, April 24, 1992...
On the road by 8:00, but didn't get to anything fun until midafternoon. Even though I'd passed all of downtown Miami yesterday, US 1 remains a nonstop series of commercial strips until after I'd passed Fort Pierce, five hours after I left Homestead. Then came the beginnings of Citrus Fruit Roadside Stand country, with growers promising a free glass of juice for all who stopped in their stores.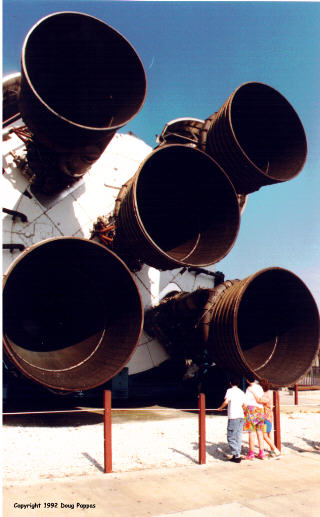 Stopped at "Spaceport USA," the TW Services-managed visitor center for the Kennedy Space Center. Admission, parking and many of the exhibits are free, and the two-hour tours are a reasonable $7.00, but the operators more than compensate with overpriced souvenirs and food service. I took one of the bus tours, which appeared to have been a hybrid of the two normally offered, modified somewhat to accommodate NASA's needs in planning for the upcoming launch of the new shuttle Endeavor next month. We saw the pads used by the early Mercury and Gemini missiles; passed by the Air Force museum with mockups of a host of rockets, but didn't go in; and finally visited the area near the launch pads used by Apollo and the shuttles. The Vehicle Assembly Building is 525' high, occupying 8 acres of floor space -- the height of my old office building, stretched to the size of the Rockefeller Center courtyard/skating rink.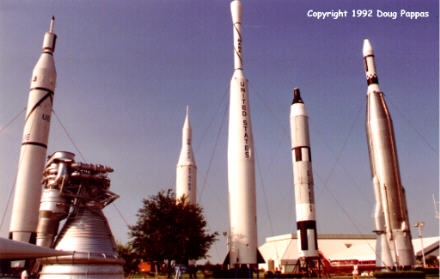 North of Titusville, US 1 finally got interesting: a four-lane divided road, with many tourist-related businesses along both side the whole way to St. Augustine. There was even a well-established, prosperous-looking Pappas Restaurant south of Daytona...one of many restaurants and diners operated by people I'm not related to. Stopped at a few Stuckey's on the way north, then as it got too dark to see the sights, veered over to the Interstate and up to Jacksonville to spend the night. I'll have to backtrack 25 or so miles tomorrow, starting in St. Augustine.
---
Go to the next day
Back to Old Road Trips menu
Back to ROADSIDEPHOTOS.COM home page