Sunday, April 26, 1992...
Today's first stop was the South Carolina Capitol, conveniently located on US 1. The front lawn has a stone from 1923 marking the Jefferson Davis Highway; also a statue of "Pitchfork Ben" Tillman, one of the most virulent segregationists ever elected; and a huge Confederate memorial in the place of highest honor in front of the Capitol. If they won't forget, neither will I. I'm proud of my ancestors who fought for the North, and I'm sorry they didn't kill more Ben Tillmans when they had the chance.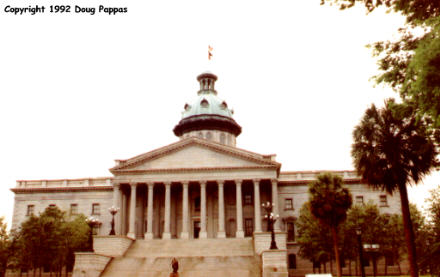 From there came hours of driving through uninteresting terrain under a heavy overcast. At least the tape deck worked. Northern South Carolina had sand hills and pine trees, while across the border the locals added landscaping and flagstaffs to create a golfer's paradise. The World Golf Hall of Fame was in Pinehurst, but I bypassed it -- my sport uses a larger ball, covered with cowhide sewn together with red stitching.
Once I crossed into Virginia, though, the route became much more interesting. South of Petersburg, US 1 was bypassed by I-85; north of there, by I-95. Both roads left a trail of closed gas stations, motels and other businesses in their path. The pattern of Route 1's development was often revealed: two lanes, widening to four in spots with the second road exhibiting much more artificial landscaping and less decorative bridges. Just south of Richmond an even older route was revealed -- a small roadside park which preserved the very first bridge built across the nearby stream, a stone bridge which veered to cross at a 90-degree angle much as the Ohio S-bridges had done; I'd guess this one was over a century old, too. A Jefferson Davis Highway plaque had been added in 1933; subsequently, first one two-lane bridge and then another bypassed the old road.
Shortly after entering Richmond, US 1 passed the new Virginia War Memorial -- a white wall on one side, a pane of glass on the other, both etched with the names of all Virginia's war dead since World War II, with an undistinguished statue and tiny eternal flame. Nice idea, horrible execution. Tried to call my friend Dan N., but when he wasn't in, I continued on to Fredericksburg for the night.
---
Go to the next day
Back to Old Road Trips menu
Back to ROADSIDEPHOTOS.COM home page