Friday, May 8, 1992...
A long day on the road -- started at 7:15 and drove for sixteen hours, covering 750 miles without once using an Interstate. Began by retracing the 25 miles back to US 6. At Delta, the only town on the last 150 miles of 6 in Utah, US 50 joined the fun, and together the roads crossed Utah's section of the Great Basin. A sign at the outskirts of Delta warned that the next services were 83 miles away; further on, another sign advised that by taking a dirt road for 16 miles north, I could travel west on the old, unpaved route of 6/50. I declined...
First stop -- Great Basin National Park, America's newest (founded 1986). Before that it was Lehman Caves National Monument, a status which seemed more appropriate -- the park offered a cave tour and hiking/driving on Wheeler Peak, but that's about all. Thanks to the time difference I reached the park just in time to take the 9 AM cave tour. Since this was a Park Service cave, much of the tour was spent identifying different formations and explaining how they were created -- no tacky lights or special effects here! Then drove as far up Wheeler Peak as I could -- the road was closed at about the 9,000-foot level, two or three miles before its end.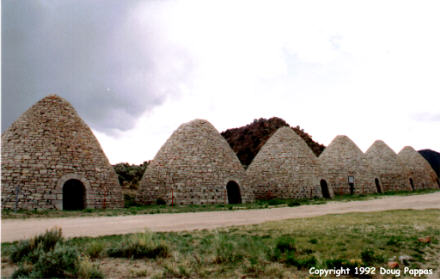 Fifty miles later, I turned south seven miles on a dirt road to see the Ward Charcoal Ovens State Historic Site: six immense cone-shaped kilns, built in the 1870s to burn wood to make charcoal for the railroads. Stopped for gas and a quick snack in Ely (which I'll be visiting three times this summer, from three different directions!), then veered southwest towards Tonopah. There was one gas station along these 162 miles, at Currant Junction. A cheery sign at the junction alerted tourists, "Only two hours to Tonopah." I wasn't cheered. Saw a lot of cattle, but maybe a dozen vehicles, total, over the next hundred miles.
In Tonopah, I stopped at the Central Nevada Museum. It has a very nice collection of local mining, railroad and settlement-related artifacts, displayed both inside and out. I bought a detailed map of the old pioneer trails, then wound up spending the next 45 minutes talking to the woman who sold me the map and to her husband when he arrived to pick her up. They're Arizonans who'd just moved there six months before -- they drive 110 miles to Bishop to see a dentist!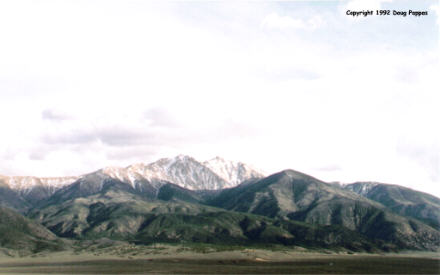 I also drove the 110 miles to Bishop, but dental care was furthest from my mind. Unfortunately the afternoon became quite cloudy as I was crossing the pass into California, detracting from what otherwise would have been a spectacular view. As I drove, I checked the map to see what path the former Route 6 took on its way to Long Beach...alas, a path which ran right through the neighborhoods that experienced the worst rioting last week in the aftermath of the Rodney King verdict. I decided that since California had decreed that 6 ended in Bishop, I'd accept their decision and not worry about completing the route all the way to Long Beach. So I continued through the darkness, the Mets-Dodgers game keeping my company as I drove, for 200 miles past Bishop, all the way to Palmdale. This left me barely an hour from Los Angeles; tomorrow I'll go right to the end of I-10/US 60 and turn east from there...
---
Go to the next day
Back to Old Road Trips menu
Back to ROADSIDEPHOTOS.COM home page