Monday, May 25, 1992... In small-town America, Memorial Day means parades, but the first one I passed was a pathetically small and unorganized group of marchers in Tully, NY. I encountered a more spirited group about an hour further south. In between -- and just about everyplace, once I was south of Syracuse -- the scenery was classic rolling-hills dairy-farm country. Good stuff.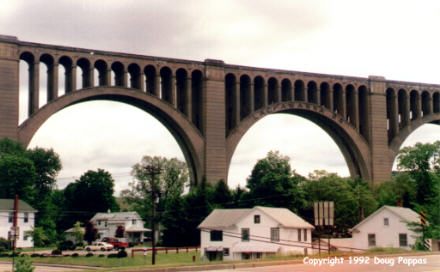 At least until I ran right over a nasty pothole on the side of the road. About five miles later I felt the right front tire start flapping. I pulled quickly onto the shoulder, cursing as I went. But no big problem, right? After all, I had a spare... Unfortunately, the folks who had installed the new tires screwed on the lug nuts so tightly that I couldn't loosen two of them -- good thing I'd pulled to a stop in front of a used-car dealership which, while technically closed, had someone on the premises who could loan me a longer lug wrench. Got that changed, then drove about 10 miles on the limited-purpose spare to a gas station, where the attendant banged out the dented rim for me. The tire itself was fine, but the whole experience cost me an hour and a half.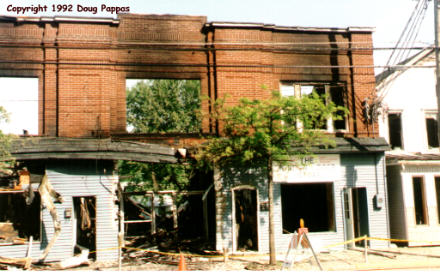 Through Scranton and environs, US 11's not too interesting -- the whole region is anthracite-coal country, which means it peaked about 100 years ago. Then 11 finds the Susquehanna River and accompanies it for 75 miles to Harrisburg before permanently linking itself to I-81. With darkness fast approaching, I headed for the Interstate. And when I awoke to a rainstorm the next morning, with more rain forecast for the next day and a half, I headed for home. I'll be back next weekend to finish 60.
---
Go to the next day
Back to Old Road Trips menu
Back to ROADSIDEPHOTOS.COM home page