Tuesday, June 16, 1992...
Covered over 500 miles of Route 66 today - the stretch between Tulsa and Tucumcari. I'm still over 950 miles from Los Angeles, but have two-plus days to finish the job.
Driving west from Greater Tulsa, 66 passes through a bunch of towns whose heyday, if any, was decades ago. Chandler's Lincoln Motel dates to 1939; Arcadia's 19th-century round barn recently benefitted from a major fundraising and renovation drive. By 9:30 I was in Oklahoma City. I drove to "Enterprise Square USA," Oklahoma Christian College's attempt to brainwash the gullible into confusing Adam Smith with Jesus Christ, but there was no one in the parking lot; maybe it was due to open at 10:00, but I didn't have time to wait. Instead I visited the Cowboy Hall of Fame, a couple of miles away.
The Hall of Fame has a world-class collection of Western art -- and was exhibiting the entrants in its 1992 contest -- to go with exhibits relating to rodeo, John Wayne, Western films, and the Old West. There's also a Western Hall of Fame which, as I should have expected, could double as a right-wingers' fantasy: John Wayne, Ronald Reagan, Barry Goldwater, and even H. Ross Perot. I should have expected as much in this city, though...on the way past the state capitol, I noticed with a start that Phillips 66 has a working oil well on the grounds! I stopped in a nearby mall to check out the promisingly-named "Route 66" boutique, but when I walked past it looked like damn near every other yuppie boutique on the planet. No thanks...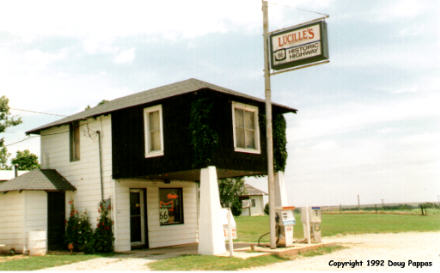 The route between Oklahoma City and Amarillo was dotted with the corpses of motels, gas stations, cafes and other roadside businesses, many quite photogenic. The Art Deco cafe/gas station at the corner of Route 66 and US 83 in Shamrock, TX remains in a class by itself, but a couple of near-dead towns have restored gas stations that are almost as old as the road. In western Amarillo, Route 66 curves past first a used-car district, then a collection of antique shops before rejoining the Interstate; right about here I turned south to finally see the Cadillac Ranch. Since the 10 rusting hulks are already covered with graffiti, I added "Moms 5¢" to the undercarriage of the last one on the left, then videotaped it.
Taking the advice of several dozen billboards, I'd planned on staying in "Tucumcari Tonight"; wasn't sure until I arrived, though, which of the 33 local motels I'd be visiting. Deciding to reward a lovely neon logo above all else, I opted for the Blue Swallow, which charged the princely sum of $10 for a room with black-and-white cable TV, rickety old air conditioner, no phone -- but a private garage a la the Coral Court in St. Louis, and a perfectly comfortable bed. The widow who runs the place was fun to talk to as well; she's obviously quite used to us 66 junkies cruising in...
---
Go to the next day
Back to Old Road Trips menu
Back to ROADSIDEPHOTOS.COM home page