Friday, June 19, 1992...
Started the day by doubling back to Rancho Cucamonga to pick up where I'd left off. Stopped to photograph the Madonna of the Trail in Upland, which marked the end of the National Old Trails Highway, then continued through more miles of strip shopping centers towards Pasadena. In Azusa I found the third operating drive-in of the journey, as well as government buildings old enough that their Mission architecture actually looked good.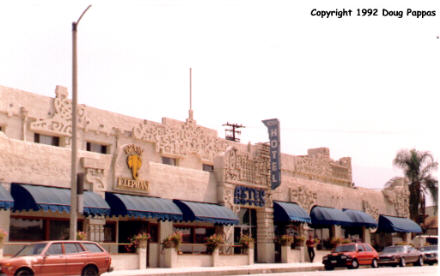 Route 66 was known as Foothill Boulevard through most of this region. Many of the towns retained an old-fashioned atmosphere; southern California's explosive growth has been south and west of here. In Pasadena, after following the route of the Tournament of Roses parade Route 66 turns west on the Arroyo Seco Freeway, world's oldest (1941) -- much better suited for high-speed travel than the world's first parkway, half a mile from my apartment. I turned west again at Sunset Boulevard, passing less than a block from Dodger Stadium, then ran into an endless stream of traffic on Sunset and Santa Monica Boulevards. Some of the buildings looked interesting, but damned if I was going to be able to get close enough to tell anything...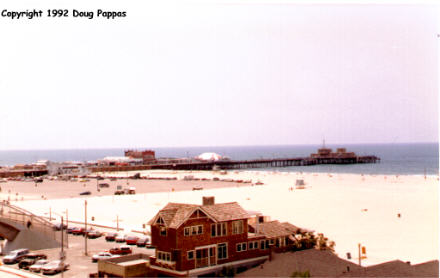 Finally I reached Santa Monica, where Route 66 ended at the junction with Ocean Boulevard. A plaque 20 yards west of the intersection names the highway for Will Rogers, so I turned north a few miles for a brief visit to Rogers' Santa Monica estate before returning to the freeways southbound. Even at 1:45 PM, the 405 freeway remained jammed most of the way between just south of Los Angeles and well past the I-5 junction far to the south; it took me 2-1/2 hours to reach Bob and Lisa's place in San Diego. Talked to them and helped their son Geoffrey chase the dog around the house until it was time for bed...
---
Go to the next day
Back to Old Road Trips menu
Back to ROADSIDEPHOTOS.COM home page