Wednesday, July 1, 1992...
Arrived home after another road trip, tired but satisfied. Between Winchester and Arlington, US 50 leaves little doubt of its Southern heritage; most of the way it's named for Confederate raider John Mosby, while one stretch is called the Lee-Jackson Highway. (Near Washington, US 29 bears the name of the old Lee Highway.) West of Fairfax, this is gentleman-farmer-and-fox-hunter country; east, it's just another overgrown collection of suburban businesses and offices.
After devoting 25 minutes to the task of finding on-street parking close to the Mall, I spent today's Washington, DC visit touring the eastern clump of government buildings. I ducked my head into the Library of Congress, then walked past the Supreme Court (a helluva lot quieter than it had been two days before, when the abortion decision came down on the last day of the term) and onto the grounds of the Capitol. Being a good American citizen, I decided it was time to tour the public areas.
Climbing the Capitol steps, I passed an effigy of Jesus, next to which some pinhead was whining how Russia lets kids pray in school and we don't. Maybe if I live long enough, someone will educate these cretins about the difference between permitting and sponsoring prayer, but I wouldn't bet on it.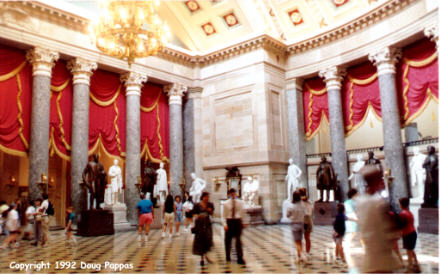 The public tour began in the rotunda, which contains six or eight murals as well as statuary and a huge, imposing dome, then moved into Statuary Hall, the old House chamber in which the states honor their great figures from the past with huge, non-matching monuments. Some states chose people I'd never heard of; others chose folks like Huey Long and William Jennings Bryan, of whom I knew far too much. We were taken downstairs to the room under the rotunda, which contained a series of displays on the building's history and artwork, and from which led passages to the old Senate chamber and the very dark room occupied by the Supreme Court for much of the 19th century. Passes to the House and Senate galleries had to be reserved from a different desk; I didn't have time to wait.
Next stop: the National Archives, where the original Declaration of Independence, Constitution and Bill of Rights are displayed for all to see. Not always "for all to read," though; the Declaration, especially, has faded noticeably after 200 years. There's also a Magna Carta on display, courtesy of "the Perot foundation" -- wonder if Bush will have that investigated, too? I crossed the Mall for a brief swing through the Air and Space Museum, where the goal was to photograph as many historic planes as possible, as quickly as possible. But with such treasures as the Wright Brothers plane (actually a replica; the original was destroyed at Kitty Hawk during a subsequent flight), Charles Lindbergh's Spirit of St. Louis, the Apollo 11 command module, and the Voyager which flew nonstop around the world, the only place for which special tickets were needed was a Star Trek exhibition! Good God. Those people should either get lives or give theirs to someone more deserving. After seeing that, I wanted to get out of town as quickly as possible...
US 50's a much nicer way out of Washington than US 1. The road's a little better, the scenery not nearly as terrifying. Annapolis, surprisingly, is only 30 miles from Washington. I swung through town, photographing the State House while cruising through the historic areas, but decided not to bother with the Naval Academy. Couldn't find a place to park there anyway... The bridge to the Eastern Shore had almost no traffic at all, but soon after I congratulated myself on that stroke of fortune, we came to a complete halt for half an hour while authorities cleared an accident on another bridge later on. As a result, I didn't reach Ocean City until almost 5:00. The town's a typical beach community -- several miles long, but only two or three streets wide. As Caroline Avenue, US 50 dead-ends into Baltimore Road, while a sign on the westbound side advises motorists they're only 3,073 miles from Sacramento.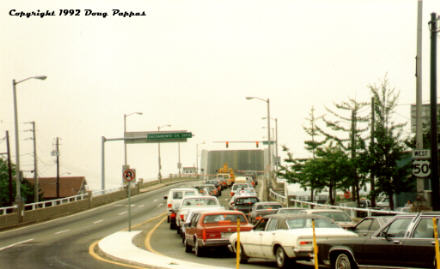 My task complete, I turned for home, driving north on US 113 across southern Delaware to the junction with US 13. I'll be home for a whole week this time...
---
Back to Old Road Trips menu
Back to ROADSIDEPHOTOS.COM home page