Saturday, July 11, 1992...
Drove northeast from Flagstaff on US 89 this morning, crossing Navajo lands en route to the Navajo Bridge across the Colorado. I was violating one of the summer's unwritten ground rules by taking Route 89A instead of Route 89, but history was on my side; until 35 years ago this was the only road through here.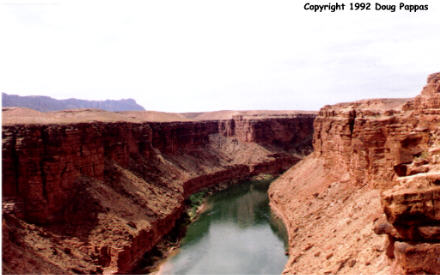 First actual stop: Pipe Spring National Monument. Though the name suggests a stage stop or trading post on a pioneer route, it's actually just a preserved ranch from the late 19th century, similar to Montana's Grant-Kohrs Ranch, though this one's been in the park system since the 1920s. On my way north to Zion, I passed through Kanab, where I'd be staying the night. I picked up my key, learning to my annoyance that the local power company would be blacking out the entire region between 5 and 11 AM tomorrow! So much for breakfast or a morning shower...
Then I continued to Zion. With several vintage-1930 bridges connecting the east end of the park to Zion Canyon, the Park Service has adopted a plan I think should be mandatory everywhere: all oversized vehicles had to pay a $10 "escort fee" for rangers to block off traffic in the tunnels so they can hog both lanes. As currently implemented, it's a nightmare for us smaller vehicles, but if the fee could be boosted to $100 or so... After hiking 3/4 mile to an observation point atop the Great Arch, I drove quickly through Zion in order to revisit Grafton, the ghost town just a few miles southwest of the park.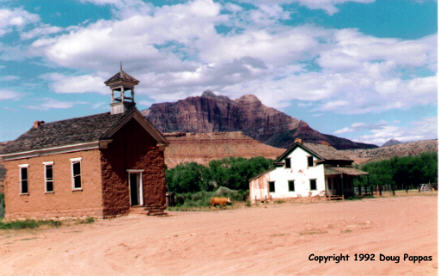 No ghost town enjoys a more beautiful setting than Grafton, along the Virgin River. Mormon settlers came to the area in the early 1860s, but a series of Indian raids drove them away within five years. (One grave in the pioneer cemetery reads: "M. Isabelle Hales, Wife of Robt. M. Berry, Born June 4, 1846, Killed by Indians April 2, 1866.") Grafton was eventually discovered by Hollywood parts of "Butch Cassidy and the Sundance Kid" were filmed here but in recent years many of the remaining buildings have burned. The adobe school/church/community house remains, as does the evocative cemetery just north of town.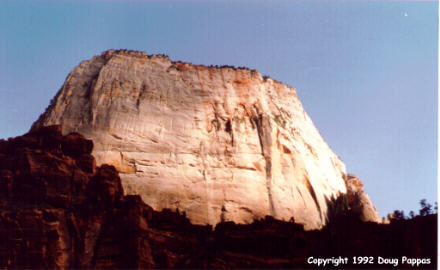 But I miscalculated the time. In Grafton, the light was perfect for photography, but by the time I returned to Zion Canyon shortly after 5 PM, the canyon floor was mostly shaded by the canyon walls. To make matters worse, I drove back through the eastern part of the park instead of hurrying to Cedar Breaks National Monument while the light would have permitted photography. I'll have to start there tomorrow...
---
Go to the next day
Back to Old Road Trips menu
Back to ROADSIDEPHOTOS.COM home page