Monday, July 20, 1992...
I really shouldn't have stayed out so late last night, but Las Vegas has that effect on a visitor. My flight home left from Phoenix this afternoon...which meant that to be sure of making my plane, I had to set the alarm for 6:30 AM. Was on the road at 7 AM from Las Vegas, headed southeast on 93 toward Phoenix.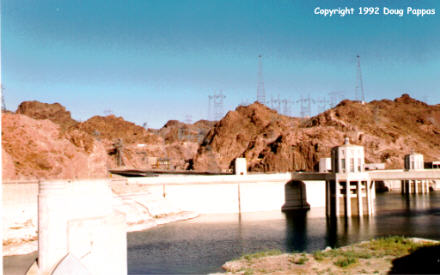 93 runs through Boulder City, the town constructed to house the workers constructing Hoover Dam, the water project which made modern Las Vegas possible. Conceived in the 1920s and constructed during the Depression, Hoover Dam tamed the Colorado River, supplying electricity and irrigation to millions of Californians, Arizonans and Nevadans. Lake Mead National Recreation Area, behind the dam, brought fishing and sailing to the desert. The dam was constructed across one of the narrowest sections of Black Canyon, which provides a picturesque backdrop for the immense concrete mass rising 726 feet from the canyon floor.
US 93 crosses the Colorado River directly atop the dam itself, passing scenic overlooks on each side and parking areas for those interested in touring the dam. Once past the dam, 93 crosses the northwestern Arizona desert, passing Route 66 at Kingman. The hours of nothing are interrupted by a stop at Nothing - Nothing, Arizona, that is, pop. 4. Nothing's general store/gas station/garage sells souvenirs and offers a couple of low-rent photo opportunities to break the monotony.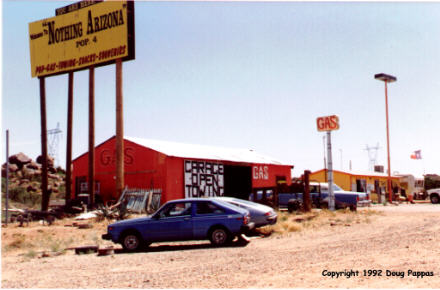 Reached the airport 45 minutes before my flight, then hauled clothes, computer, camera, camcorder, and the rest of my luggage through the Phoenix, Dallas and Newark airports on my way home. It's almost time to start thinking of employment again...
---
Back to Old Road Trips menu
Back to ROADSIDEPHOTOS.COM home page