Monday, August 10, 1992...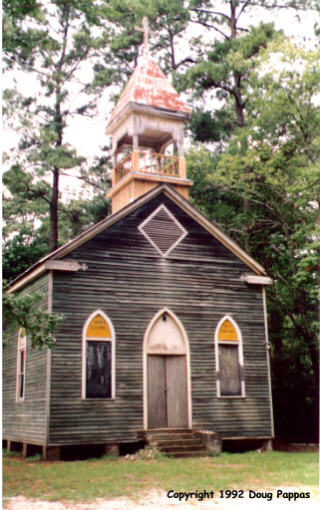 Having finally located the site, I swung through Meridian's Highland Park to photograph the Jimmie Rodgers stuff, then continued south. The rest of US 11 looked much like yesterday's drive -- narrow, winding roads through small towns and forests. I crossed Lake Ponchartrain on a five-mile bridge, continuing through eastern New Orleans to the road's dead-end at the junction with US 90.

Then I entered New Orleans proper to look for the start of US 61. This took a while: while US 61 begins on Tulane Avenue, Tulane Avenue runs a mile or so from downtown before becoming US 61 at the junction with US 90. At least I didn't have to drive through the French Quarter -- the 94-degree temperature and oppressive humidity were trouble enough.

US 61 continues as the Airline Highway between New Orleans and Baton Rouge. It passes through mile after mile of ugly commercial strips before finally becoming a small strip of land surrounded by bayou canals on both sides. I left 61 briefly in Baton Rouge to check out the state capitol and Huey Long's grave on the grounds. Louisiana's populist tradition is evident from the layout: a highway exit leads directly past the (unfenced) Governor's Mansion onto the grounds of the state capitol. This visit complete, I turned north on Scenic Highway from Baton Rouge into plantation country.

The real antebellum South begins in St. Francisville, north of Baton Rouge. In addition to numerous fine old homes in the town proper, markers along the side of the road pointed down tree-shaded lanes toward additional faded, preserved glories of the Old South. In a few stretches, "Old Highway 61" signs directed me along earlier alignments of the road. My timing was perfect: I reached Natchez just in time to photograph Mammy's Cupboard.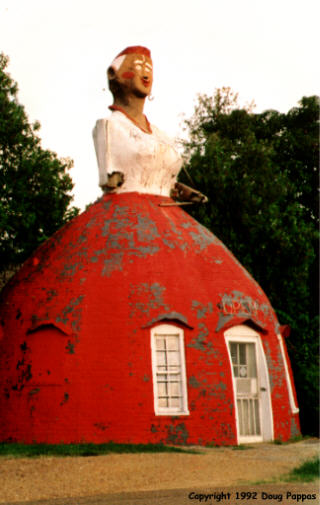 A few miles from the South's largest collection of preserved antebellum plantations stands another symbol of Old Dixie: a 28' tall statue of a white-haired Negro Mammy, her hoop skirt large enough to house a restaurant. Mammy's Cupboard has graced the east side of U.S. 61 south of Natchez since 1939. Alas, Mammy looks her age. Her right arm was amputated by a storm years ago. Her skirt needs several more coats of red paint, several of her original windows have been painted over, and her driveway and parking lot look deserted and forlorn even when the restaurant's open. With a facelift, the old girl could resume her rightful place as a roadside icon -- and as a reminder of just how the owners of those beautiful plantations up the road maintained their lifestyle.
---
Go to the next day
Back to Old Road Trips menu
Back to ROADSIDEPHOTOS.COM home page