Wednesday, August 12, 1992...
Covered a lot of territory without seeing much. Five miles north of Blytheville, I crossed into the bootheel of Missouri, passing under a wonderful old "Entering Arkansas" arch. Southeastern Missouri's an extension of the Delta cotton belt, looking much like Arkansas and Mississippi.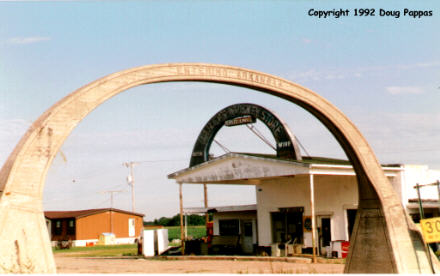 First stop: Lambert's Cafe in Sikeston, MO, "home of the throwed rolls." Lambert's serves down-home Southern cooking, and plenty of it: fried chicken and (very salty) pork dinners with vegetables and an unlimited supply of white beans, okra, slaw and other passarounds served by waiters who fill your plate anytime you're too busy chewing to say No. Best of all are the "throwed rolls," advertised on billboards for a hundred miles in any direction: softball-sized, wheeled straight from the oven in their baking pans by gloved waiters who hurl them at diners fifty feet away, then follow up with scoops of sorghum molasses delivered in a more conventional manner. I wouldn't want to write a life insurance policy on any of the regulars...
North of Sikeston, there was nothing worth stopping to see until Hannibal. 61 comes into Greater St. Louis on Lindbergh Blvd., then joins a Fifties-era expressway labeled as both US 40 and US 61. Eventually 61 turns north again and heads for Mark Twain country. Long after Twain's death, his hometown of Hannibal, Missouri exploits Tom, Huck, Becky Thatcher and the rest the way Disney exploits Mickey Mouse.
Next to the Mark Twain Museum, an official-looking historic marker identifies a white picket fence as "Tom Sawyer's Fence," which Tom tricked his buddies into painting for him. Visitors can tour the Mark Twain Cave, ride the Twainland Express around town, browse the Becky Thatcher Bookstore, and even dine on Mark Twain Fried Chicken before photographing the statue of Tom and Huck at the foot of the hill. But the most bizarre sight of all was parked directly in front of me in downtown Hannibal: another Mazda 626 from Tappan Motors in Tarrytown, New York!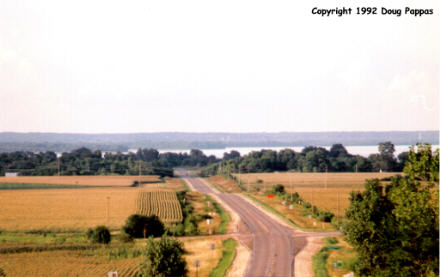 The overcast which had accompanied me through northeast Missouri cleared as I was crossing the Iowa line. The sun came out and stayed out, and as 61 moved closer to the Mississippi, the scenery improved 100%. Stopped for the night in Burlington, Iowa.
---
Go to the next day
Back to Old Road Trips menu
Back to ROADSIDEPHOTOS.COM home page