Friday, August 14, 1992...
Began the day with a visit to the new Mall of America in Bloomington: four stories, four anchor tenants, hundreds of typical mall emporia, and a Knott's-Berry-Farm licensed "Camp Snoopy" in the middle. I arrived at 9:30, half an hour before most of the stores open, so was able to sneak into the special "media center" parking lot directly in front of the main entrance instead of in one of the enormous lots at the side of the complex. The "media center" concept's carried through on the inside, too -- one of the first storefronts houses an accredited-media-only information center. I wandered around for 45 minutes with a video camera, bought the Minnesota WPA Guide at the mall's B. Dalton, then turned south.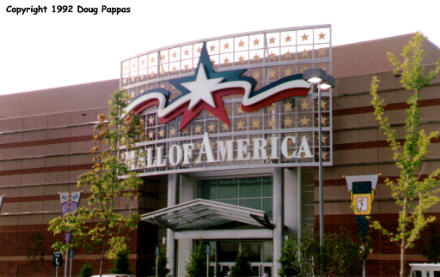 Then came 12-1/2 hours of driving -- over 820 miles in all, on the way home. Once it got dark I had my choice of three or four baseball broadcasts at any given time, including the Mets once I got far enough east. Though the way they've been playing, why would I want to hear their games anyway? I'll be home tomorrow...
---
Back to Old Road Trips menu
Back to ROADSIDEPHOTOS.COM home page