Thursday, September 3, 1992...
Continued across Kansas on I-70. I turned off at Abilene to look briefly around the Eisenhower Center (since I'd visited last year, there wasn't much point in sticking around), continued through Topeka to photograph the state capitol, then enjoyed a few miles of rural US 40 through Lawrence on the way to Kansas City. I stopped briefly at the Agricultural Hall of Fame in Bonner Springs -- it's about half a mile from both the Kansas Turnpike and US 40, but when I saw so few cars in front it wasn't clear if the place was open, I continued on.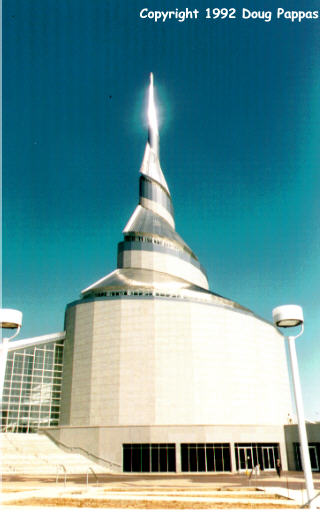 US 40 rejoins the Interstate through Kansas City, then branches off for three miles just before Independence -- three miles chock-full of old-fashioned motels, used-car dealerships and other businesses. Then, unfortunately, I had to navigate the path between the Interstate and downtown Independence, one of the most disgusting assemblages of modern businesses I've ever seen. But the National Frontier Trails Center made up for it with an enjoyable 15-minute film and displays highlighting the Oregon, California, Mormon and Santa Fe Trails; I also bought a guidebook to the Oregon Trail.
Then it was time to remedy the year's major omission. My 12-route odyssey had taken me to 47 of the lower 48 states...all but South Dakota. Yet I-90 across South Dakota is one of my favorite drives of all! Rather than continue west across Missouri, I turned north on I-29 for a 300-mile detour to Sioux Falls. Tomorrow will be a long out-and-back...
---
Go to the next day
Back to Old Road Trips menu
Back to ROADSIDEPHOTOS.COM home page