Sunday, September 6, 1992...
Woke up a bit later than planned -- fortunately, didn't have far to go. I called Dad to let him know I'd be arriving around noon tomorrow. Before leaving St. Louis, I stopped off again at the Gateway Arch and waterfront. The Gateway Arch, at 630' America's tallest civic monument, offers a fine combination of history, scenery and tourist-trap tackiness.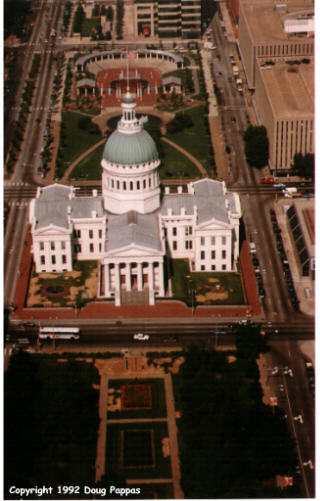 Visitors to the Arch, which is mounted high atop the Mississippi River levee on the St. Louis waterfront, descend into a subterranean museum/waiting area. On one side, the Museum of Westward Expansion illustrates St. Louis' role as "Gateway to the West" with exhibits telling the story of the 19th century westward migration. At least half the Museum's visitors, though, are impatient tourists waiting their turn for a tram ride to the top of the Arch in Buck Rogers-style capsules. During peak tourist seasons this wait can be over an hour.
From the top, visitors are rewarded with a bird's eye view of downtown St. Louis, the Mississippi River, and miles of Illinois cornfields. At the riverside base of America's most famous Arch, tourists can dine beneath America's most famous GOLDEN Arches at a floating McDonald's, or place bets on a low-stakes floating casino that's the gambling world's equivalent of a McDonald's.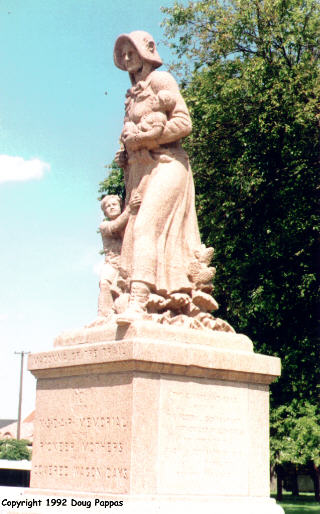 Once it veers away from I-70, US 40 remains a two-lane road across most of Illinois, passing through farmland and the occasional small town. Vandalia's the only town of consequence; it offers the 1836 state capitol in which Lincoln served (few furnishings original), and served as the western terminus of the National (or Cumberland) Road, as marked by a Madonna of the Trail statue on the Capitol grounds. A few miles west of Terre Haute, IN, US 40 becomes a four-lane road, a status it retains all the way across Indiana.
My other major stop -- downtown Indianapolis, where I photographed the state capitol (and its two National Road markers); the Old Trails Building almost across the street; and the huge war memorial, its renovations complete. I even rode up to the top (in a tiny elevator holding only five people, to a small, cramped and hot glassed-in observation platform) before turning east, through a neighborhood which started off bad but improved the further it got from downtown. Stopped for the night in Greenfield, 20 miles east of downtown.
---
Go to the next day
Back to Old Road Trips menu
Back to ROADSIDEPHOTOS.COM home page