Wednesday, September 9, 1992...
Began the day by driving a dozen miles west, to pick up US 40 where I'd left off last night before the tire problems. As usual for this region, the morning was foggy, making photography difficult until it had burned off. I revisited the grave of British general Braddock and Fort Necessity National Battlefield, relics from the start of the French and Indian War, then detoured north about ten miles to see Fallingwater, Frank Lloyd Wright's most famous house.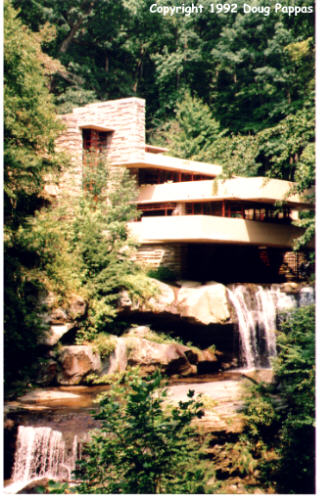 Wright designed this masterpiece in 1936 for the family of a Pittsburgh department store owner. A 1991 poll of the American Institute of Architects voted it the finest work in the history of American architecture. The house was constructed directly atop a waterfall, using construction methods as revolutionary as the design; the interior retains all of the original furnishings, and the surroundings remain lushly forested. Native rocks protrude right into the building, the cliffs are accompanied by huge cantilevered terraces unsupported by anything below. Access to the house is by 50-minute guided tour only.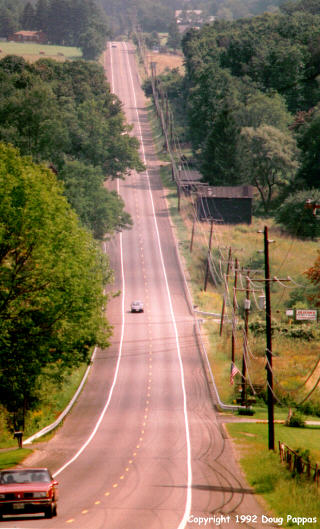 Returned to US 40, through Ohiopyle and other small communities along the Youghiogheny River which looked to be a great place to go river-rafting. 40 crossed the Mason-Dixon line at a spot marked by four separate indicators: a small, low 1902 milepost on the south side of the road; a taller, cracked concrete post probably dating to the 1930s; a shift in the pavement at the border; and a large signpost mounted over the road on the Pennsylvania side though it carried no sign. I photographed three old tollhouses, including one in Pennsylvania which had been bypassed decades ago, then stopped to gape at the huge Casselman River Bridge, built in 1813 and bypassed 120 years later. A small craft village at the east end contains a number of log cabins. I tried for half an hour to find the spot in Cumberland where the National Road had begun -- the closest I could come was a small milepost in a traffic island on the east side of town, which had been relocated here many years ago. Oh well...
East of Cumberland, old 40 takes on a host of identities: US 40, Alternate US 40, Scenic US 40, and SR 144. In all of these guises, it crosses the spine of the Alleghenies near new I-68, through small 19th-century downtowns which have never been modernized. I cruised through Hagerstown to a junction with the Interstate just west of Frederick before turning for home. I'll pick up from here later...
---
Go to the next day
Back to Old Road Trips menu
Back to ROADSIDEPHOTOS.COM home page