Tuesday, September 29, 1992...
A beautiful day -- low sixties and clear -- as I brought the road trip to a close. The drive from Wilmington to Atlantic City took less than two hours. Once across the Delaware Memorial Bridge and away from the Interstate, US 40 becomes a quiet, two-lane road through countryside that hasn't changed much in fifty years: small farms by the side of the road, the occasional small town. For much of this distance it's called the Harding Highway, a clear reminder of the old days.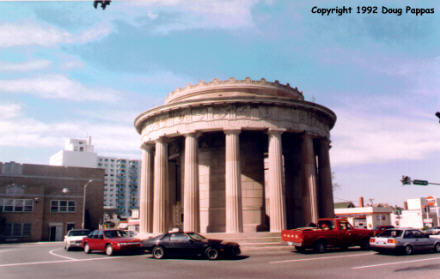 At Mays Landing, US 40 it joins with US 322 to become a four-lane thoroughfare through Pleasantville and into Atlantic City. As Albany Avenue, it ends at the junction with Atlantic Avenue at the Atlantic City World War I memorial. This used to be a traffic circle, but now traffic proceeds sedately, governed by a series of lights. Six months, four cross-country drives and 50,000 miles later, my Summer on the Road had come to an end.
---
Back to Old Road Trips menu
Back to ROADSIDEPHOTOS.COM home page