Thursday, June 3, 1993...
Today got off to a terrible start: leaving the motel parking lot this morning, I discovered that the right rear tire was flat! Fortunately, I was able to limp a few blocks east to a garage, which soon diagnosed the problem as a piece of wood that had penetrated the tire. 25 minutes later I was back on the road with a rubber plug filling the hole left by the wood.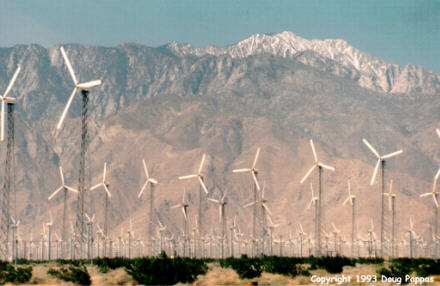 I followed old 99 east to Indio, then south to the Mexican border at Calexico. Much of the drive was below sea level, though Imperial Valley irrigation had made the area one of the nation's prime producers of dates and citrus fruits. Calexico looked slightly nicer than the other Mexican border towns I'd seen, possibly because of its relative isolation. From there, I turned east towards Phoenix.

My next route, US 70, was united across California with US 60 before I-80 put both of 'em out of business; I would pick it up in Globe, Arizona. Since I'd driven 60 across California last year (where it, in turn, had been superseded by I-10), I hit the Interstate and stopped for the night in Mesa, east of Phoenix.
---
Go to the next day
Back to Old Road Trips menu
Back to ROADSIDEPHOTOS.COM home page