Tuesday, June 8, 1993...
I was off by 2-3/4 hours. Driving straight through, I covered a total of 1,046.6 miles today, pulling into my garage at 5:45 AM. I reached the end US 70, in Atlantic, NC, just before 6 PM, then drove 650 more miles. Thought about checking into a motel while passing through northern Virginia around midnight, but decided to press on. While I wasn't operating at anything close to maximum efficiency by the time I got home, the New Jersey Turnpike can almost be driven in my sleep...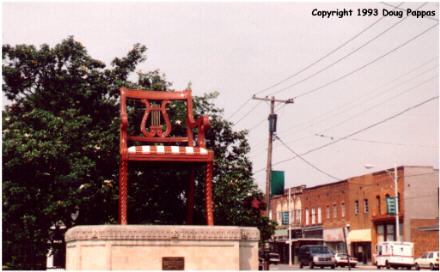 But when the day began, I was passing through the furniture district of North Carolina's Piedmont region. Thomasville had erected a huge chair on Main Street; High Point had the World's Largest Bureau. Neither, unfortunately, was especially accessible from US 70, so I spent far too much time in stop-and-go local traffic despite 90-degree temperatures and a crippled air conditioner, cursing everyone responsible for the layout of the towns and their poor signage.
I continued through Raleigh-Durham without incident before reaching eastern North Carolina, an agricultural region that stretches for hundreds of miles. I had forgotten that Raleigh's nearly 200 miles west of the end of the road, a fact which soon became only too evident.
If I'd had more time and the temperature had been more cooperative, I'd have stopped to spend an hour or so in New Bern's historic district -- this former state capitol has a number of old buildings, including the reconstructed Tryon Palace, former home to the royal governor. Beaufort also had some historic buildings, but by this time I was concentrating on reaching the end of the road and heading for home. That end is anticlimactic: 70 continues as a winding two-lane road through Carolina shore country, passing over numerous inlets and small ponds, before petering out in Atlantic, NC, a few blocks from land's end. Then it was time to head for home, the radio and tape deck keeping me wide awake as I finished yet another road trip...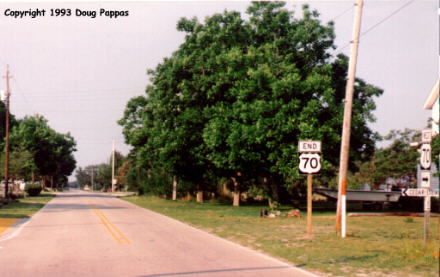 ---
Back to Old Road Trips menu
Back to ROADSIDEPHOTOS.COM home page