Tuesday, June 22, 1993...
Drove from Fort Worth to El Paso, stopping at everything that could possibly be of interest. First stop: the Brazos River Rattlesnake Ranch in Santo, TX, about 40 miles west of Fort Worth. Inside, the stench from dozens of newly-tanned rattlesnake skins hanging from the rafters made me long for northern New Jersey. $2.00 buys a walking tour through goats and chickens who wait expectantly for food as you enter their area (a free bag's handed to you as you walk through the door), but I didn't bother with those.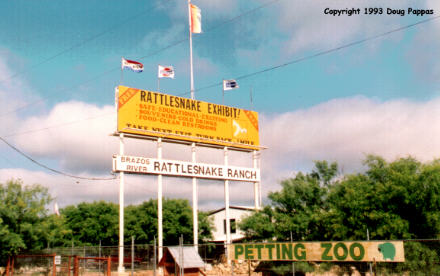 Instead I bought two pieces of food for the snakes -- two live field mice -- for $1.00, dropped them into the snake pit, and watched the nastier side of nature. The nearsighted snakes ignored the mice until they got close enough to recognize, then struck at the midsection, crushing the life out of the hapless mouse. That got the attention of the other snakes, who began fighting one another for the right to swallow the carcass.



Almost all the way across Texas, the old roadbed of US 80 serves as a frontage road for I- 20 and later I-10. Not many towns, but the ones I found often had a unique claim to notoriety. Eastland has two world-class oddities: a mural in the post office created by a local postmaster from 11,217 postage stamps, and the embalmed body of a toad on display in the county courthouse. "Old Rip" was one of many items deposited in the cornerstone of the former county courthouse, constructed in 1897. When that courthouse was demolished in 1928, the cornerstone was emptied - and Old Rip was found alive and croaking despite 31 years of entombment. Suddenly famous, Old Rip toured the country, even meeting President Coolidge.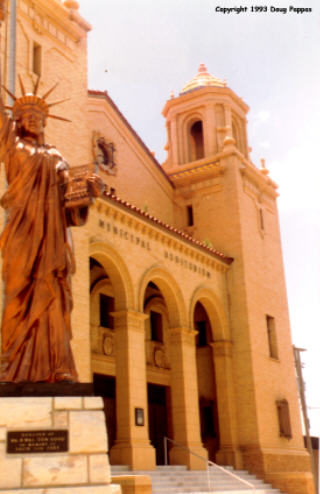 But like most amphibians, Old Rip couldn't handle celebrity: the fast pace killed him within a year. Down the road a bit, Cisco boasts Conrad Hilton's first hotel (on Conrad Hilton Drive), and Big Spring has a Statue of Liberty replica on the grounds of its municipal building.
Stopped for two more mainstream sights in West Texas. First came the Permian Basin Petroleum Museum in Midland, housing more antique drilling equipment and dioramas/displays of geology and the oil industry than I'd have thought existed anywhere. It's one long commercial for the petroleum industry, but so well done that I stayed for nearly two hours despite my general lack of interest in the subject. My BS detector finally went off at the Petroleum Hall of Fame, "dedicated to those who cherished the freedom to dare": decades of special tax breaks could make anyone more "daring."
Then came the Presidential Museum in Odessa, a very low-key affair housed in a nearly unmarked building. It presents the history of the American Presidency through campaign memorabilia and political cartoons. Don't come here for insight into the process of government; instead, follow the development of campaign art and verify that manipulative imagery and meaningless slogans were common long before 30-second TV commercials and 10-second "My opponent kills children" radio spots. The Museum also contains portraits of each President and dolls depicting each First Lady in her inaugural gown, though it has yet to recognize the Clinton Administration. Of course, since Bush lived in Odessa for a year when he started in the oil business, I don't think the natives want to recognize the Clinton Administration... This is one of the few regions in America to define itself in terms of a geologic feature, calling itself the Permian Basin in honor of the oilfield below.
[Midland/Odessa is also the home region of the First Couple elected by the U.S. Supreme Court in December 2000. George W. Bush moved to Odessa as a child and returned to Midland as an adult. Laura Bush grew up in Midland, where at age 17 she ran a stop sign and killed a friend in another car. She hadn't been drinking at the time...which is more than could be said for her husband during his West Texas days. Among them, the President, Vice President and First Lady have combined for three drunk-driving arrests and a vehicular homicide, and the Bush daughters seem quite capable of adding to these totals.]
Unfortunately, from Odessa I still had five hours' driving before I reached El Paso, most of it with the sun setting in my eyes. In a couple of spots around Mile 100, there are even low-key direct intersections with the Interstate -- crossroads providing direct access without any type of ramp or exit sign! It was too dark to see anything in El Paso by the time I arrived (I'll pick it up at the start of US 62 whenever I drive that road), but I did notice that the city has to be the discount-cowboy-boot capital of the world...
---
Go to the next day
Back to Old Road Trips menu
Back to ROADSIDEPHOTOS.COM home page