Wednesday, June 30, 1993...
Covered over 700 miles in nearly fourteen hours on the road. It took me until 12:30 PM to reach the beginning of US 97 in Weed, CA, a logging town just over 50 miles south of the Oregon border. From Weed -- as from just about everywhere else in a 75-mile radius -- the snow-capped peak of Mt. Shasta dominated the skyline.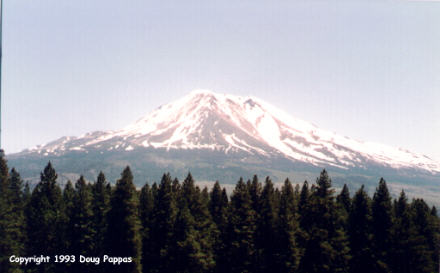 Almost as soon as I headed north out of town, the road began to climb. It kept climbing almost to the Oregon border, where it leveled off for a while; north of Klamath Falls, it passed through over 100 miles of timber country, in a dangerously flat, sterile straight line guaranteed to put any driver to sleep if he didn't stop to walk around once in a while. I reached Bend by 4:15. The terrain changed from timber to agriculture, but by the time I reached northern Oregon buildings were few and far between. Shaniko and Kent, two towns in this region, are mere shells of their former selves -- the railroad went away several decades ago, leaving behind wooden grain elevators and other buildings appropriate to a town several times the size of these.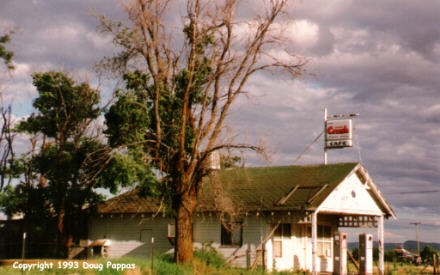 I reached the Columbia River at 7:15, with the shadows were especially spectacular along the river's high bluffs. Rather than continuing toward Yakima or checking out one of the small-town motels, I headed for Portland, 100 miles distant, for another visit to Powell's Books. Found the Nebraska and Los Angeles WPA Guides and a copy of the first Fireside Book of Baseball, then found a motel room on the northeast side of town. Tomorrow morning I'll have an 85-mile drive before resuming US 97 northbound. I'm beginning to think I should've used a rental car instead of beating up mine to this extent...
---
Go to the next day
Back to Old Road Trips menu
Back to ROADSIDEPHOTOS.COM home page