Saturday, July 10, 1993...
Today began with a trip through the Bavarian-themed town of Frankenmuth, regionally famed for warehouse-sized restaurants specializing in chicken dinners...and for Bronner's CHRISTmas Wonderland.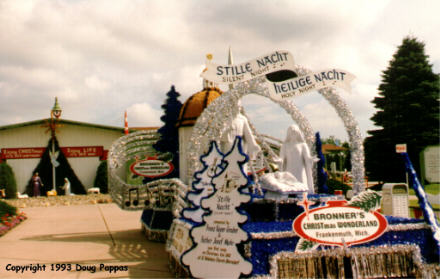 Sure, other towns have Christmas-themed stores...but how many of those stores offer patrons free loaner cameras, show an 18-minute highlight film in their own theater, or attract 2,000,000 visitors each year? Bronner's 1-1/2 acre sales floor contains over 50,000 items - 200 styles of nutcracker alone. Whether you're looking for a Santa suit, Hummel figurines for an aunt, or CocaCola and McDonald's ornaments to add appropriate style to a bachelor apartment, Bronner's is the place to shop. It's nearly doubled in size since my last visit six years ago.
Then continued south on I-75, which replaced US 10 as far as Pontiac. Through this section the main alternate road is called the Dixie Highway -- probably old US 23, though there are so many branches of the Dixie Highway it's hard to tell which is being referred to at any given time. At Pontiac, I turned southeast to follow the original route of US 10 along Woodward Avenue. When Michigan adapted to the automobile, it did so in style: as early as 1923, Woodward Avenue was laid out with a 200-foot roadbed, a center median and four lanes of traffic in each direction! As a result, it's never been widened.
In Royal Oak, I stopped briefly at Father Charles Coughlin's Shrine of the Little Flower in Royal Oak, MI, where the co-founder of televangelism (along with Aimee Semple MacPherson) has lapsed into the anonymity he so richly deserves. During the Depression, Coughlin attracted millions of followers by telling them what they wanted to hear: they were pure, decent and moral people, and all their troubles were the fault of Communists, Wall Street and the dreaded International Bankers. Like his successors, Coughlin invoked comforting images of a pure, moral small-town America which never existed, and used the Bible and his title to create the impression that his political solutions were dictated by God Himself.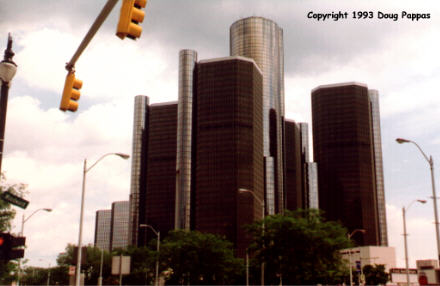 As soon as Woodward Avenue crosses into Detroit, the road is lined with the ghosts of dozens of fleabag motels. Some survive by catering to the short-stay crowd, most have long since shuttered their doors. Approaching downtown, the Fox Theatre remains one surviving memory of Detroit's past glory. The road finally ends downtown at the junction with Jefferson Avenue. I looked around briefly, then got the hell out of town, headed for home...
---
Back to Old Road Trips menu
Back to ROADSIDEPHOTOS.COM home page