Wednesday, April 27, 1994...
US 92 was an easy route to complete: it's only 159 miles long, connecting St. Petersburg and Daytona Beach, and even overlaps US 17 for much of this distance. Started the day just a mile from the west end of 92, at St. Petersburg's Sunken Gardens. This old-fashioned attraction has seen better days, though it still offers five acres of nicely landscaped gardens -- including many tropical plants -- with parrots, owls, deer, exotic carp, etc., along with a 20-minute trained parrot show. The "sunken" part of the name comes from the gardens being 10' below street level, barely above the level of the former lake bed. There's also a "King of Kings" Biblical wax museum, and an enormous gift shop.
From there, I headed across the Gandy Bridge into Tampa. 92 seemed to bypass some of the city's worst neighborhoods; it turned north on Dale Mabry Drive, then east on Hillsborough Avenue before disappearing into the agricultural lands of central Florida. It rejoined 17 shortly before Winter Haven, which was my signal to hop north to I-4 and cover the next eighty miles via the Interstate. I-4 was my first exposure to the full extent of the Disney/Orlando area hotel development, with new construction everywhere.
I left the Interstate shortly before DeLand, then followed 92 the last few miles to Daytona Beach. It enters the Daytona area as Speedway Boulevard, passing directly in front of the Daytona racetrack as well as the adjacent greyhound track and nearby jai-alai fronton. 92 then crosses Route 1, ending at the junction with State Route A1A a block from the beach. For $5.00 I could've taken the car right down onto Daytona Beach, but elected to pass up that thrill...
Instead I returned to I-95 and pointed the car north. This is fruit-stand country, with at least one Stuckey's-style structure at every interchange announcing discounts on oranges, grapefruit, etc. Couldn't find any decent postcards, though... Approaching Jacksonville, I again turned east to A1A, from which US 90 emerges three blocks west of Jacksonville Beach.
Between Jacksonville Beach and downtown Jacksonville, 90's a very nice four-lane divided highway; after it swings through downtown, though, it re-emerges on the west side as one of the sorriest-looking former main roads in America. It runs for miles as Beaver Avenue, a two-lane, undivided route past industrial and railroad buildings and pine trees, never widening and rarely even interrupted by a cross street. In fact, the road's still interrupted by a half-dozen active railroad crossings, at one of which a train tied up traffic for over five minutes!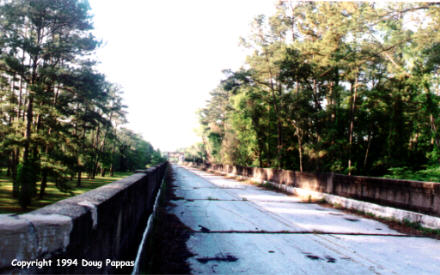 The drive continued like this all the way to Lake City, where I stopped at a motel conveniently located at a junction with I-10.
---
Go to the next day
Back to Old Road Trips menu
Back to ROADSIDEPHOTOS.COM home page