Monday, May 2, 1994...
The worst weather I've encountered on the trip...but on a day when I wasn't passing through anything interesting anyhow. It rained from Hobbs all the way to Oklahoma City, with temperatures falling from the high 50s down to the high 40s by the time I stopped for the night...and of course I had no jacket and no long-sleeved shirt.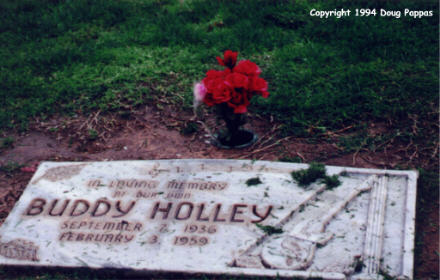 The day's only planned stops were in Lubbock, for the Buddy Holly statue outside the Civic Center and a brief visit to his grave in the city cemetery (where his headstone uses his real last name of Holley). Otherwise, I settled for covering close to 500 miles before 6 PM, driving through land which gradually became less arid and turned from pure rangeland into land on which crops and trees could grow. Spent the night in Oklahoma City, where 62 crosses Route 66...
---
Go to the next day
Back to Old Road Trips menu
Back to ROADSIDEPHOTOS.COM home page