Saturday, May 7, 1994...
Finished the sightseeing part of this vacation with a lot of walking and a lot of driving. First, I doubled back to downtown Buffalo to visit Millard Fillmore's grave and track down the site of William McKinley's assassination: the former site of the Palace of Music is now an unmarked subdivision, with only a neighboring William McKinley High School providing any clue as to what happened here.
From Buffalo, 62 is signed as Niagara Falls Boulevard. The 20-mile drive passes dozens of old motels offering honeymoon rates and heart-shaped tubs on its way to the depressed border town of Niagara Falls, and the far-from-depressing Falls themselves.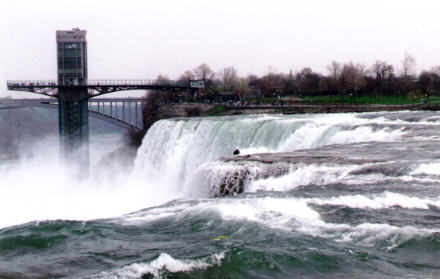 As waterfalls go, the twin falls of Niagara aren't very high. The taller of the two, 180-foot American Falls, isn't even the highest waterfall in New York State. But Niagara's breadth and volume give the Falls a raw power found nowhere else in America. In summer, 750,000 gallons of water per second, traveling at 40 MPH, cascade over the 1,060' wide American Falls and 2,200' wide Horseshoe Falls. The governments of New York and Ontario maintain parks along both sides of the Falls, allowing awestruck visitors and prospective suicides to approach within inches of the precipitous drop. But unlike national park waterfalls, which require hiking and restrict the vantage points, Niagara Falls offers a Total Tourist Experience.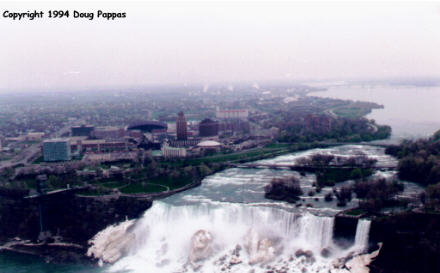 On both sides of the border, one set of elevators carries visitors to water-level views in Niagara Gorge, another tunnels behind the Falls to subterranean passages behind the wall of water. The Canadian side offers much better views -- not only do the Falls themselves face Canada, but from the Canadian side you don't have to look at the three ugly commercial observation towers that offer an aerial perspective. In fact, Niagara Falls must be the only place along the 3,000-mile border where Canada is far tackier than America.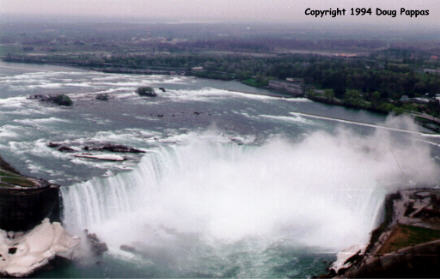 After my day at the Falls, it was time to start heading for Pittsburgh. I'll be flying home tomorrow, tired but satisfied...
---
Back to Old Road Trips menu
Back to ROADSIDEPHOTOS.COM home page