Bryce Canyon National Park


Bryce Canyon's landscape seems to have been imported from another planet. Its horseshoe-shaped amphitheaters contain eroded formations found nowhere else on earth: castles, towers, and above all thousands of "hoodoos," vertical stone protuberances which resemble platoons of soldiers standing at attention. Reddish-orange colors predominate, but mineral deposits have left pink, white and even lavender streaks through the formations.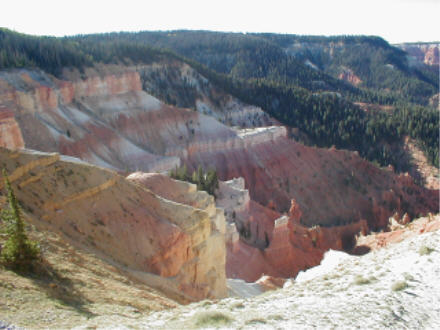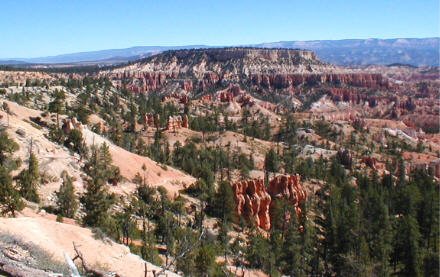 Sunrise Point (2 views)


The beauty of Bryce changes with the hour, the weather, and the season, as shadows cast by the shifting sun emphasize new highlights. Bryce can be toured in a single day, and even those allergic to exercise can appreciate its grandeur from the parking lot observation points but once you visit, you'll want to return again and again. The overlooks can be especially spectacular in winter, when snow and crisp, clear winter air add yet another dimension to the sights.





Sunset Point


All of the overlooks and hiking trails are accessible from the 17-mile (one way) tour road which dead-ends at Rainbow Point. Be careful not to overexert yourself when hiking the trails at altitudes of 8,000 to 9,000 feet, Bryce can quickly exhaust even the physically fit.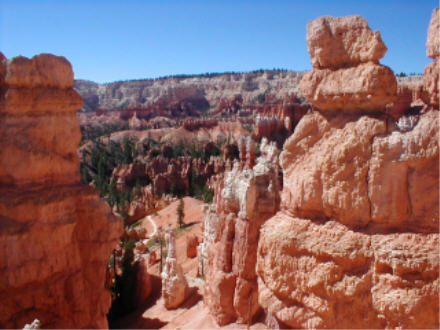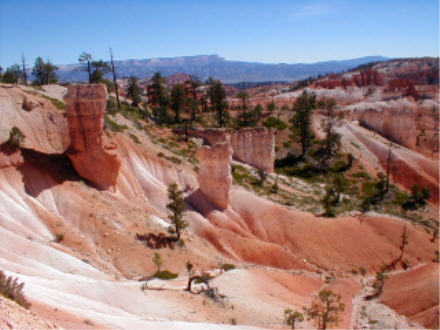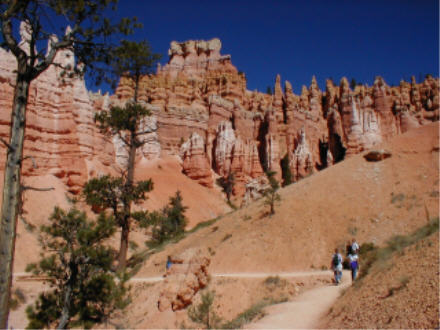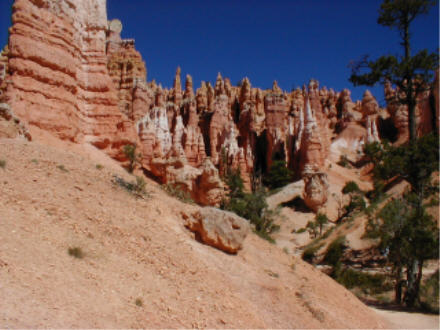 Views from the Queen's Garden Trail


For the convenience of the hurried traveler, Bryce Canyon has thoughtfully placed many of its most scenic views and hikes in the section closest to the park entrance, Bryce Amphitheater. The shortest and easiest under-the-rim trail, the 1.5 mile Queen's Garden Trail, begins at Sunrise Point; a similar trail, the Navajo Loop, begins at Sunset Point. Bryce Point, further ahead in the Amphitheater section, offers especially good photo opportunities.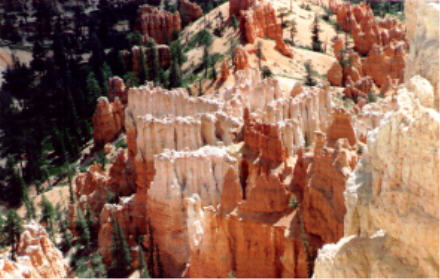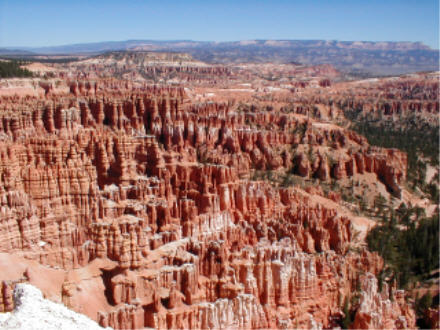 Views from Inspiration Point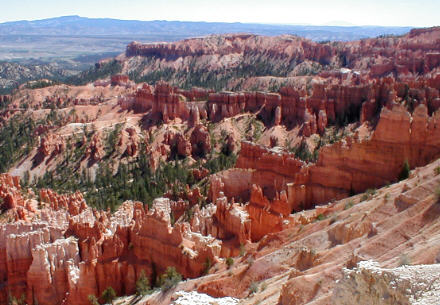 Bryce Point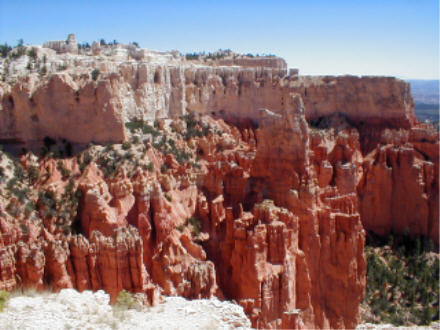 Paria View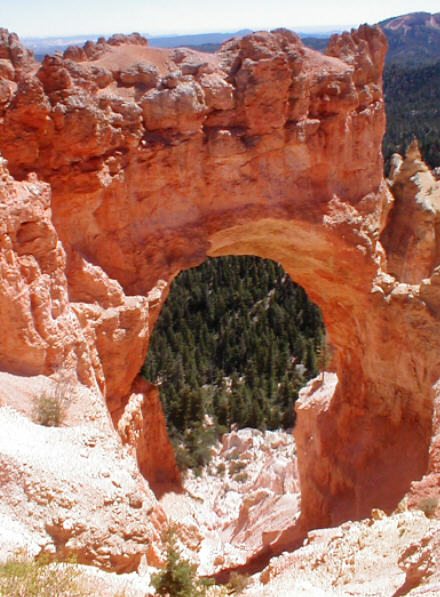 Natural Bridge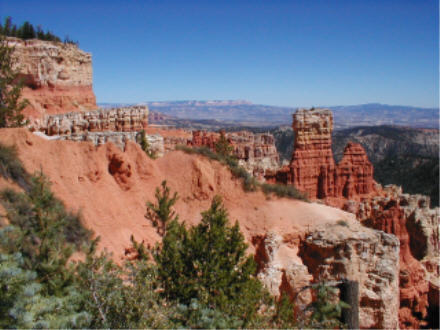 Agua Canyon


Once past the Amphitheater, traffic thins out. All the way down to Yovimpa and Rainbow Points, at the end of the scenic drive, the viewpoints provide unforgettable images of erosion at its most spectacular. On the way back, stop a few more times to see how the changing light has affected the views.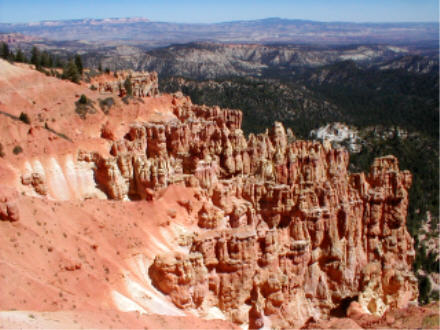 Ponderosa Point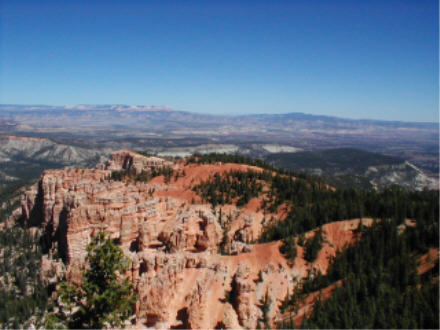 Rainbow Point
---

FOR MORE INFORMATION:

Official National Parks Service Website: http://www.nps.gov/brca/


Rod Adkison, 50 Best Short Hikes in Utah's National Parks: Zion, Bryce, Capitol Reef, Arches, Canyonlands (2d ed. 2001)


Ron Adkison, Utah's National Parks: Hiking, Camping and Vacationing in Utah's Canyon Country: Zion, Bryce, Capitol Reef, Arches, Canyonlands (2d ed. 2001)


Don Laine and Barbara Laine, Frommer's Zion and Bryce Canyon National Parks (3d ed. 2002)


W.C. McRae, Moon Handbooks: Zion and Bryce: Including Arches, Canyonlands, Capitol Reef, and Escalante (2002)


Erik Molyar and Tamara Martin, Hiking Zion and Bryce Canyon National Parks (1997)


Constance Roos, The Grand Canyon and the American Southwest: Trekking in Grand Canyon, Zion and Bryce Canyon National Parks (2001)



---
To main National Parks page

To ROADSIDEPHOTOS.COM home page