Grand Teton National Park


Between the sublime Yellowstone and the ridiculous Jackson, Grand Teton National Park features the most dramatic mountain range in America. The peaks of the Teton Range rise abruptly, almost vertically, on the west side of the park, towering a mile above the Jackson Hole basin.

Two north-south roads run through the heart of the park U.S. 89/191 to the east and Teton Park Road to the west. Both offer fine views of the mountains, but only Teton Park Road provides access to the park's lakes, trails and scenic loops.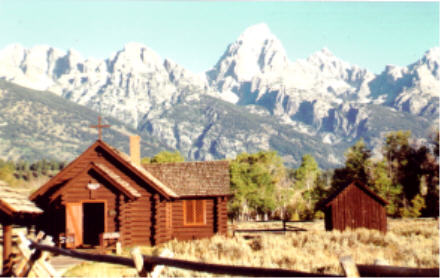 Chapel of the Transfiguration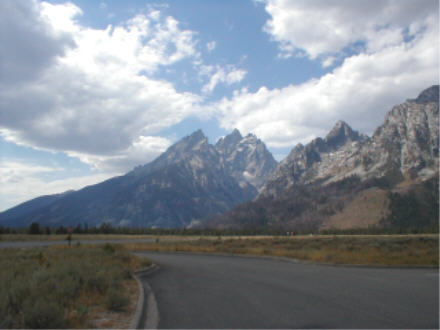 Grand Teton


Visitors approaching Grand Teton from the south first pass the National Elk Refuge (observation points), winter home for much of the Park's abundant wildlife. The park roads split at Moose Junction. Following Teton Park Road to the left, stop at the Visitor Center for literature, then follow a short side east to the stunning Chapel of the Transfiguration, with a picture window behind the altar framing the Teton Range for worshipers.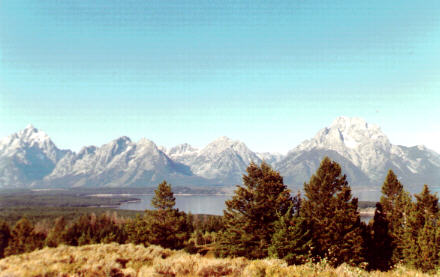 Teton Range from Signal Mountain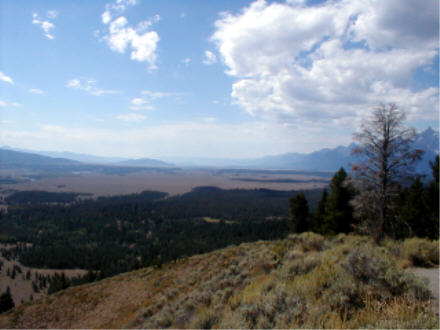 Jackson Hole from Signal Mountain


Further north, little Jenny Lake offers hikes and a scenic loop drive. The park's best loop drive, though, leads east from Teton Park Road up Signal Mountain (no campers or RVs); the summit provides fabulous views of the Tetons and Jackson Hole below. Rejoin U.S. 89 and continue north past Jackson Lake, formed by a dam long before the park was established. The Colter Bay visitor center contains an extensive collection of Indian artifacts.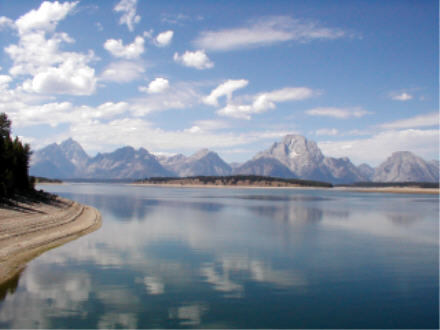 Grand Teton, Mt. Moran and Jackson Lake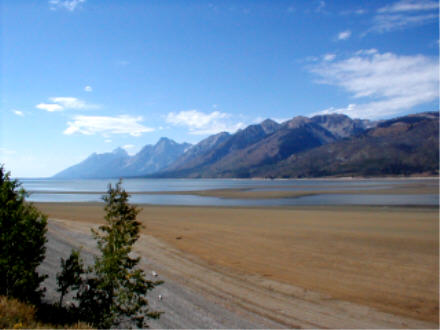 Teton Range


Grand Teton National Park should be more than just a short side excursion from Yellowstone. Spend a few hours exploring the park, its views and the preserved ranch and cabin buildings along the way. Most of the park is most photogenic in the early morning, while the view across Jackson Lake is best in late afternoon.


---

FOR MORE INFORMATION:

NPS site: http://www.nps.gov/grte/

Guidebooks:

Joseph K. Lange, Photographer's Guide to Yellowstone and the Tetons (2000)


Bradley Mayhew, Lonely Planet Yellowstone and Grand Teton (2003)


Don Nelson, Paddling Yellowstone and Grand Teton National Parks (1999)


Eric Peterson, Frommer's Yellowstone and Grand Teton National Parks (3d ed. 2003)


Don Pitcher, Moon Handbooks Wyoming, Including Yellowstone and Grand Teton National Parks (5th ed. 2003)


Bill Schneider, Hiking Grand Teton National Park (1999)


Robert B. Smith and Lee B. Siegel, Windows Into the Earth: The Geologic Story of Yellowstone and Grand Teton National Parks (2000)


Susan Springer Butler, Scenic Driving Yellowstone and Grand Teton National Parks (1999)


Photo books:

Fred Pflughoft and Henry H. Holdsworth, Grand Teton Wild and Beautiful (2000)


Jerry Schmidt, Grand Teton: Citadels of Stone (2002)



---
To main National Parks page

To ROADSIDEPHOTOS.COM home page