The Lincoln Highway:
Gettysburg to Tuscarora Summit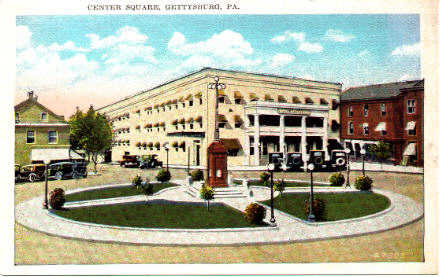 Central Square, Gettysburg, PA. The message on the back reads, "Here is where we spent our second night 10/4/27." Some of the people the writer met that day may have seen Abraham Lincoln when he stayed on the Square 64 years earlier, the night before delivering a short speech at the dedication of the national cemetery.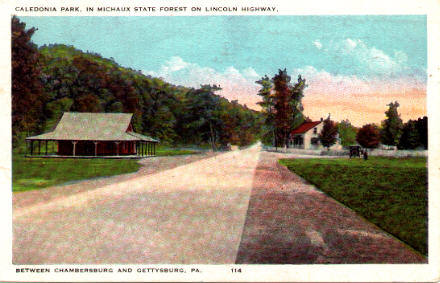 Caledonia Park, in Michaux State Forest on Lincoln Highway. The Confederate Army took this path on its way from Chambersburg to Gettysburg.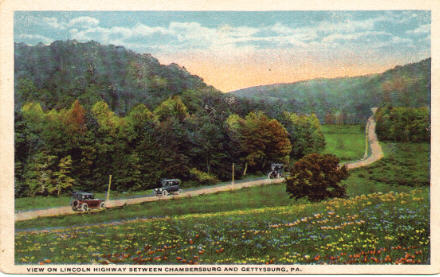 "West of Gettysburg the Lincoln Highway follows the old Pittsburgh and Philadelphia Turnpike, over which stage coaches were run in the early part of the nineteenth century. Hundreds of thousands of dollars per year are spent to maintain the macadam in good condition." A Complete Official Road Guide of the Lincoln Highway, 5th ed. (1924).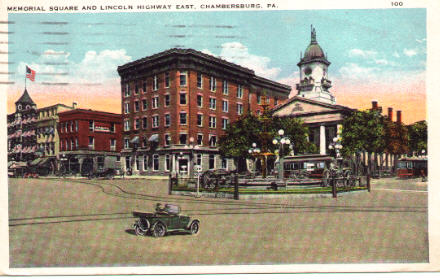 Memorial Square and Lincoln Highway East, Chambersburg, Pa., postmarked 1924. Sixty years before, a year after the Battle of Gettysburg, the Confederates burned the town when residents refused to pay $100,000 in gold to spare it.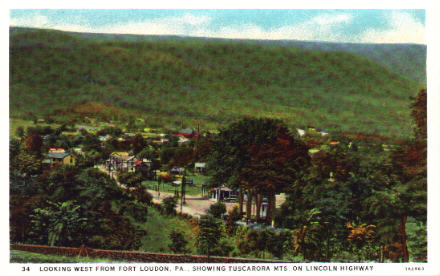 Looking West from Fort Loudon, Pa., Showing Tuscarora Mts. on Lincoln Highway. Card printed 1931. "Glancing ahead from this level stretch, the tourist will see Tuscarora or Cove Mountain looming up tremendously in the distance, and may wonder how difficult the crossing of it will be. Accidents are very rare. One only needs to be sure that the car is in good condition, especially the brakes, strictly observe the rules of the road, and keep a sharp lookout for vehicles coming from the opposite direction, particularly under full headway, perhaps carelessly driven." Robert Bruce, The Lincoln Highway in Pennsylvania (1920).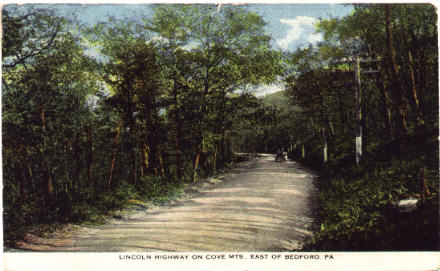 Lincoln Highway on Cove Mts. East of Bedford, Pa. Postmarked 1917, less than four years after the route of the Lincoln was designated.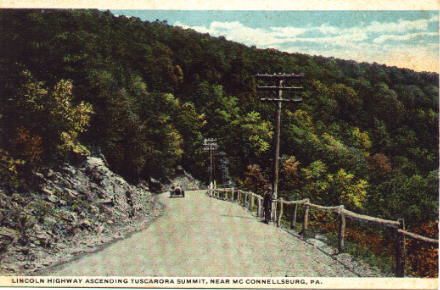 Lincoln Highway Ascending Tuscarora Summit, Near McConnellsburg, Pa. Check out those fence-post guard rails!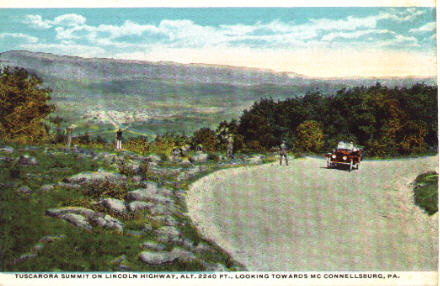 Tuscarora Summit on Lincoln Highway, Alt. 2240 Ft., Looking Towards McConnellsburg, Pa.

"[T]he traveler is hardly prepared for the vision that greets him from Tuscarora Summit, the Cumberland Valley on one side, and on the other Cove Valley with McConnellsburg the chief jewel in a sea of green." -- 1924 Official Guide to the Lincoln Highway

Continue west...


---