Saturday, May 19, 2001...

Greetings from Holbrook, Arizona, where this report won't be E-mailed tonight. I don't have a modem connection, or even a phone, in my room...but I don't care, because I'm sleeping in a wigwam!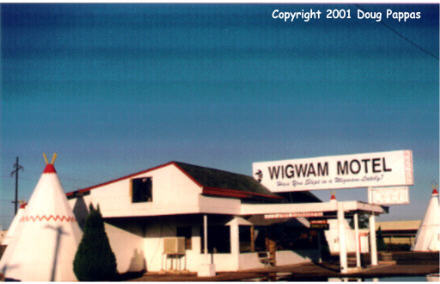 I'm in Unit #2 of Holbrook's Wigwam Village, one of the treasures of the American roadside: fifteen concrete tepees, built about 50 years ago, arranged in a semicircle around a courtyard. The current owner is the son of the man who built the wigwams, one of seven Wigwam Villages constructed from a design created by a Kentucky entrepreneur in the 1930s. The original Wigwam Village, in Horse Cave, Kentucky, is long gone, as are the Villages in Birmingham, Orlando and New Orleans. Three survive: one's in Cave City, Kentucky, and I saw the other two today.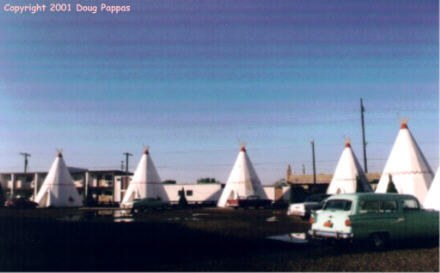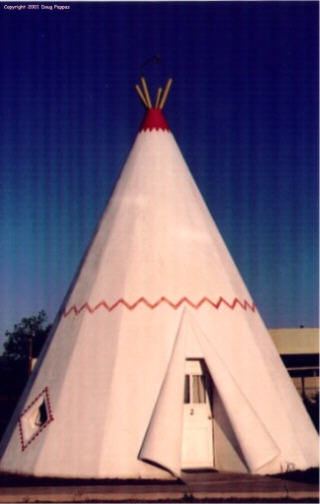 My tepee comes complete with air conditioning, cable TV, a comfortable double bed, table, two chairs, a tiny desk and even smaller nightstand, two lamps and an overhead light, all in "Southwest Indian" motif. Except for the area around the front door, the walls start slanting inward about four feet off the ground. This is only an issue in the bathroom, which occupies the back quarter of the unit: the shower's tucked away behind the bed and the mirror above the sink is mounted at an angle that makes it a full-length mirror whether or not you want it to be. The tepee rents for $35/night, which in Holbrook is almost twice the price of similar-vintage motels and 25% more than the Motel 6 at the Interstate charges. But who cares? I'm SLEEPING IN A WIGWAM, dammit!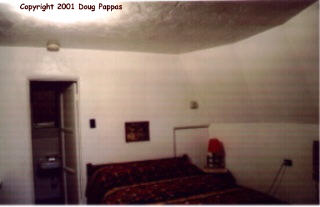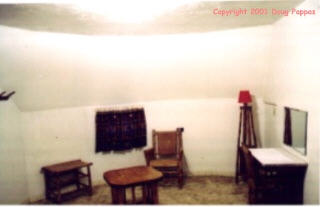 The owner/manager inherited the property from his father in the mid-1980s. It sat empty and forlorn for several years, but has been totally restored to its past glory. He's even scattered eight or ten classic Fifties street cruisers near the units to enhance the atmosphere...and while I was checking in, he told me proudly that the Wigwam Village would remain for future generations, as he's just completed the paperwork to get it on the National Register of Historic Places.

Quite a contrast to the other Wigwam Village on today's meanderings. It sits on Foothill Boulevard in San Bernardino, just a few miles from where I spent last night. It had been closed the last time I came through, but has been reopened and repainted. Never thought of staying there, though: as the "Do It in a Tee Pee" slogan on the marquee suggests, it doesn't cater to guests who are (a) traveling alone, and (b) intending to spend the entire night. (If any female readers want to investigate the premises with me, though, let me know...)

Today's drive really began in Victorville, where I turned off I-15 to follow old 66 north to Barstow. The Interstate covers the same ground via a different route, which has drawn all the development; as a result, this stretch of winding two-lane road looks much as it must have fifty years ago. Did not turn off to the only attraction along this stretch, Helendale's Exotic World Museum honoring strippers and burlesque queens of the past, but did stop at one of the roadside's most underrated tourist traps, Barstow Station.

Barstow's the last town of any size between metropolitan Los Angeles and Las Vegas, and between L.A. and the Mojave Desert for those traveling Route 66. Barstow Station offers fast food in a gimmicky setting (diners eat their meals in converted railroad cars), plus a a selection of tacky tourist merchandise worthy of Stuckey's in its prime. From there, it's 140 miles across the desert to the Colorado River, a drive usually about as agonizing as being trapped at a dinner party between Rush Limbaugh and Ralph Nader. But the Dodgers were playing the Mets in New York this afternoon...which meant live baseball at 10 AM Pacific time, announced by the incomparable Vin Scully, who's broadcast the Dodgers for more than fifty years. (One reason Scully's conversational style works so well: he doesn't share the mike with a color man.)

Once in Arizona, the flat desert turned mountainous in a hurry. The road designated as Historic Route 66 between Topock and Kingman was the main route for only about 25 years -- it was bypassed in the early 1950s because the hills were so difficult. Even where the route's signed at 45 MPH, sudden sharp curves and steep climbs often make it impossible to drive faster than 25 MPH. Pulled through Oatman, a mining town turned tourist attraction where with live donkeys roam the streets begging drivers for food, then spotted the Natural Feature Most Likely To Have Changed Its Name, the doubly offensive Squaw Tit.

Every town along Arizona's Route 66 has embraced the old road, hoping to mine it for tourist gold. Seligman bills itself as the "Birthplace of Historic Route 66," Williams is home to the quarterly glossy Route 66 Magazine, and Flagstaff has renamed its main street Roure 66. Manufactured nostalgia can be taken to ridiculous extremes: one store in Williams calls itself Small Town America (tm) Memory Lane Museum (tm) and Gift Shop. One trademark symbol on a small business's logo suggests delusions of grandeur, but two suggests a place that should be burned to the ground with the owner inside.

My negative thoughts must have annoyed the road trip gods, for between Williams and Flagstaff I was caught in a thunderstorm. The rain ended as soon as I crested the 7,335' pass west of Flagstaff; on the other side there was nothing but sunshine. Williams and Flagstaff are both gateways to the Grand Canyon, but this early in the season some of their motels were advertising rates as low as $14/night.

Further east, two more Route 66 landmarks have bitten the dust: both the Twin Arrows truckstop/diner and the Meteor City souvenir shop are boarded up. The Meteor Crater remains open, though, for people willing to pay for the privilege of gazing through telescopes at a giant hole in the ground. In Winslow, the locals have finally completed and dedicated a statue honoring the Jackson Browne/Eagles song "Take It Easy," depicting a man "standing on the corner in Winslow, Arizona." It stands half a block from Winslow's Old Trails Museum -- where, for the third straight time, I arrived after the museum had closed.

Tomorrow's drive should be shorter -- not least because since Arizona doesn't observe daylight savings time, I'll gain two hours if I make it to Amarillo as planned. And with Amarillo offering no photogenic wigwams to sleep in, I'll be sure to find a room with a modem jack...


---
Go to the next day
Back to NEWS FROM THE ROAD menu
Back to ROADSIDEPHOTOS.COM home page