Sunday, September 2, 2001... Greetings from Gardiner, Montana, where I just saw Mike Mussina of the Yankees throw 8-2/3 perfect innings against the Red Sox before surrendering a hit on a 1-2 pitch.

My day began in West Yellowstone at 7 AM. I made sure to eat a good breakfast in town before returning to the park, having learned from past trips that most meals in the park wouldn't pass muster in a high school cafeteria. (Serving sub-McDonald's burgers in this region is like serving bad corn in Iowa.) Then spent the next 10 hours following an S-shaped path around the park, an unsual route made necessary by construction that's closed one park road for the season.

Today was Trail Day: at least 11 of them, including three of more than a mile and three involving descent-and-returns of at least 500 feet into Yellowstone Canyon, all at a mile and a half above sea level. Usually I find exercise too boring to continue for any length of time, but if I could train here for the summer, I'd be ready for the New York Marathon. The weather cooperated -- low humidity and temperatures ranging from 50 this morning to 75 in midafternoon.

The day's first notable sight was Isa Lake, located atop the Continental Divide: water from this tiny pond drains into both oceans. Next came the geysers and hot springs near -- or in some cases in -- Yellowstone Lake, followed by a set with such inviting names as Sour Lake, Sizzling Basin, Mud Volcano, Dragon's Mouth Spring, Cooking Hillside and Sulphur Caldron.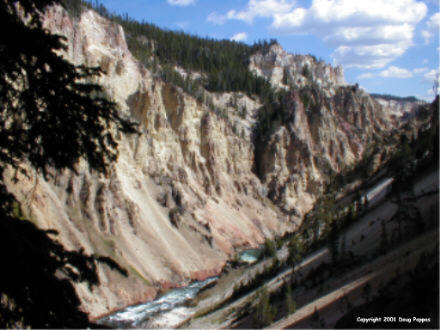 I then reached the Grand Canyon of the Yellowstone, the walls of which gave the park its name. Yellowstone's Canyon is much smaller than Arizona's, but it's much more human-scaled, with trails along both rims and hikes almost to water level at several points. There are also two crowd-pleasing waterfalls, 109' Upper Falls and 208' Lower Falls. My pet peeve here: drivers who block parking lots by stopping in turnarounds to discharge passengers. The passengers can hike down steep, winding trails, but not walk an extra hundred feet on level ground?

After downing a quart of Gatorade and almost a gallon of water during this series of hikes, I crossed to the west side of the park, home of the Norris Geyser Basin. According to the brochure, this is the "hottest, oldest and most dynamic of Yellowstone's thermal areas," with tiny earthquakes regularly altering eruption patterns. This is the home of Steamboat, the world's tallest active geyser -- but since Steamboat has erupted only once in the past 10 years, it's hard to plan a vacation around the sight.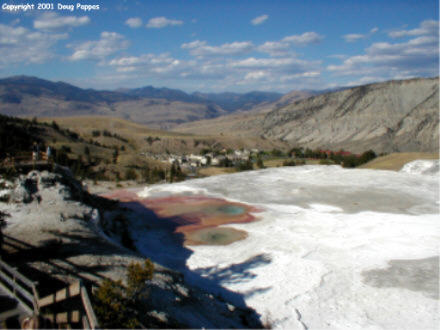 Heading north, the last major area before Gardiner is the Mammoth Hot Springs area, where underground limestone deposits cause the springs to grow rocks wherever they flow. One formation, the Liberty Cap, grew 27 feet tall, while others have covered several acrea with soft white rock.

Great Moments in Marketing 1: The makers of Rain-Blo bubble gum are running a contest called "Win Money to Blo." Meanwhile, fraternity houses across America are tempting coeds with an inversion of this contest.

Great Moments in Marketing 2: The spring-summer Motel 6 directory runs from March 1-September 2, 2001. The fall-winter Motel 6 directory runs from September 4, 2001-February 28, 2002. Does this mean all Motel 6s are closed tomorrow?

Great Moments in Marketing 3: Wrangler is using Creedence Clearwater Revival's "Fortunate Son" to promote its product. In context, the quoted lyric is clearly an attack on the person being described. And a special Upraised Middle Finger award to the man who must have licensed the recording, label owner-turned-film producer Saul Zaentz: Zaentz encouraged the band to invest its earnings in bogus tax shelters; pressured composer John Fogerty to sign away his copyrights after the shelters tanked, then sued Fogerty for copyright infringement for, in effect, plagiarizing himself.

Tomorrow I loop around Yellowstone's northeastern quadrant, then continue south through Grand Teton National Park before heading for east-central Utah. If I moved up my flight home by five days, I could be back in the office on Tuesday. Don't bet on it...

---
Go to the next day
Back to NEWS FROM THE ROAD menu
Back to ROADSIDEPHOTOS.COM home page