Monday, September 3, 2001... Greetings from Green River, Utah, 120 air miles (but 250 auto miles) from Green River, Wyoming. Bet you can't guess which body of water connects the two...

Started the day by completing the Yellowstone loop, beginning with one of the park's oddest sights: a single petrified redwood stump. There used to be a whole bunch of 'em, but tourists a century ago made off with all the others before park officials had the bright idea of fencing this one off. Then came Tower Falls on the east side of the park, Lewis Falls toward the south, and a view of land that was recovering from the fires of 1988.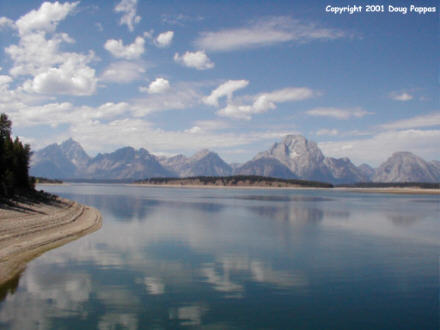 I continued south into Grand Teton National Park, named for a mountain range that reminded some very lonely French explorers of a series of enormous breasts. The Tetons rise on the west side of the park, with Jackson Hole on the right. Grand Teton is also the only national park with a commercial airport in one corner, a distinction that I hope will survive the Bush Administration.

Just south of the park sits Jackson, once a fine Western town but now an uneasy, inauthentic cross between Santa Fe and Gatlinburg. The arch of elk antlers downtown seems sadly misplaced among the upscale clothiers and art galleries on one side, and a Ripley's Believe It or Not! museum on the other.

But continue five miles south of Jackson and you're back in the real West: a two-lane road intersected by dirt lanes leading to ranches so big that the buildings are invisible to passersby. The posted speed limit is 65, but anyone driving that slow is likely to be flattened by the Stetson-wearing driver of a dusty pickup truck.

After Grand Teton, I had to reach east-central Utah to be in position for tomorrow's Cavalcade of Erosion in Arches and Canyonlands National Parks...and US 191 conveniently runs through both Jackson, Wyoming and Green River, Utah. Easy, right?

Alas, no. The Wyoming stretch was easy. Memories of past trips flashed by as I crossed the Oregon Trail near South Pass City, then joined with the Lincoln Highway for a few miles near Rock Springs before turning south through Flaming Gorge National Recreation Area. However, "Gorge" is not a word welcomed by drivers -- for us, it means endless climbs and descents, usually behind an underpowered RV or a car towing 500 lbs. more than its recommended capacity.

Approaching Vernal, Utah, the Bureau of Land Management identified the geology of numerous rock formations and summarized their significance. Could swear I saw "fossil squid" linked to one of them, but in this terrain actually turning to look would have been a one-way ticket to the bottom of the next ravine. When 191 hooked up with my old friend US 40 in downtown Vernal, I took a brief detour to note that the giant pink dinosaur that formerly advertised the Motel Dine-a-Ville now greets visitors at the other end of town.

Green River is almost due southwest of Vernal, but 191, the only road connecting the two, takes a 75-mile detour: west, then southwest, and finally southeast on a two-lane road that's no fun at all to drive after dark. This last two-lane road is another old friend, US 6, which merges onto I-70 a few miles west of town. There are no services along I-70 for 100 miles west of Green River, so this tiny town supports far more than its share of motels, restaurants and gas stations.

Local radio notes:
Worst oldies song heard today: Johnny Preston's "Running Bear," a pathetic early-Sixties Doomed Lovers ballad that adds racism to the mix. And it's not even as unintentionally funny as "Teen Angel," "Last Kiss," or "Tell Laura I Love Her" -- or as far from politically correct as Warren Smith's "Ubangi Stomp."

A station in Vernal, Utah claims to play Today's Top Hits, but the teaser for its upcoming newscast was reporting last Thursday's news.

A station in Price, Utah was broadcasting a syndicated old-radio-shows program hosted by Stan Freberg. Tonight's shows: a 1949 episode of "Richard Diamond, Private Detective," written by Blake Edwards long before he ever heard of a Pink Panther, and a 1944 episode of " Duffy's Tavern" that hasn't aged well.

Five more days on this vacation, and I'll be spending 4-1/2 of them in the same state. That doesn't happen too often...

---
Go to the next day
Back to NEWS FROM THE ROAD menu
Back to ROADSIDEPHOTOS.COM home page