Saturday, September 6, 2003... Greetings from Paso Robles, California, 200 miles in the wrong direction from where I'm supposed to be headed.

In May I drove old US 99 and US 101 from the Mexican border to the Bay Area/Sacramento. Now I'm driving the same roads from California north to Canada...but not without a detour for California State Route 1, the scenic coastal route. Having punished myself with the two inland routes last time, I'm rewarding myself now.

Flying out last night reminded me why I prefer driving. Thanks to New York's rush hour traffic and a car service driver who showed up late, I reached JFK Airport for my flight to San Jose 45 minutes before my scheduled departure. Since I wasn't checking bags and would be happy to use the self-check-in, no problem, right? Ha.

The self-check-in kiosk wouldn't process me because I got there 44 minutes before my scheduled departure time and its limit is 45. An American Airlines employee who heard some of the invective I directed at the kiosk and its programmers motioned me to a traditional check-in station. After about one minute, the airline employee handed me a boarding pass and told me, "You're all set, just go upstairs for security." I did. When I couldn't find the entrance for my gate, I checked a map.

American Airlines has two adjacent terminals at JFK, one for domestic flights and one for international. I was in the domestic terminal, at the entrance to Gates 40-49. My flight was leaving from Gate 3 in the international terminal, at least a half-mile from where I stood, two carry-on bags in hand. (The geniuses at American must have been confused. After all, "San Jose" sounds Spanish...) I hurried over to the correct terminal, then got in an endless line for what I thought was airport security.

Nope; this was just the line for checking photo IDs, a process that took the crack airport security team at least 45 seconds per person. Then came the line for security, at which only two of a possible six or seven lanes were open. For good measure, even after removing all metal from my pockets I was pulled out of line for a full-body scan with a hand-held metal detector because my belt buckle apparently set off the machine. By now I was ready to use that hand-held detector for an impromptu body cavity search of the security team.

Made my flight with 10 minutes to spare. The flight itself was uneventful, but the rental car pickup wasn't. My reservation was ready and I got a key to the car I had reserved...but the car wasn't where it was supposed to be, or anywhere else in the area. At an hour my body interpreted as 2 AM, I had to haul self and luggage back to the counter to get another car. I got an upgrade for my trouble, but this morning I realized that the upgraded car had a CD player instead of the cassette player I had specifically requested and brought music for. As a result, you may be hearing much more about local radio than you want to read, or I wanted to write.

After the late night arrival, I gave myself an easy schedule for today. Skipped the 17 Mile Drive and related sights around the Monterey Peninsula, but ventured into self-consciously artsy Carmel long enough to visit the local mission. Inasmuch as US 101 followed El Camino Real, the original route connecting the California missions, this was a logical stop. Inasmuch as I wouldn't reach the next town south of Carmel for six hours, it was also a necessary stop for beverages and snacks. Properly provisioned, I headed south for the scenery.

California State Route 1 hugs the coast from Carmel to San Luis Obispo. The terrain is so rugged that the road wasn't cut through until the 1930s, and avalanches can still close the route for months at a time. These are major inconveniences for those living along Route 1, since for over 100 miles there are no paved roads across the mountains connecting it to any other road.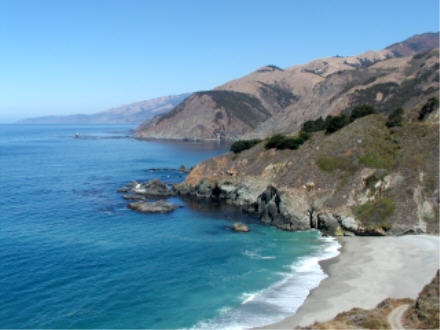 But on a clear day like today, the scenery's incredible. Frequent turnouts provide views of the rocky coast, as well as the bridges which span ravines and streams emptying into the Pacific. Near Big Sur, the former home of writer Henry Miller is maintained as a museum/bookstore; further south, the Esalen Institute remains a center of New Age, er, "thinking."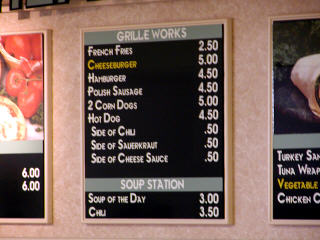 Just north of the small town of San Simeon is the very large estate which attracts thousands of visitors to the central coast: the William Randolph Hearst State Park, better known as Hearst Castle. The property is now part of the California state parks system -- the only profitable unit of the parks system, according to my tour guide. I can believe it. The main tour-plus-movie runs $18/person; three other tours, each covering different parts of the property, cost $12 each; and the food served at the visitor center costs more than at a major league ballpark.

On the other hand, the property is incredible. Its only American rival is Asheville, NC's Biltmore House, constructed by one of the Vanderbilts. Hearst spent decades accumulating artworks and decorative furniture, then more than a quarter-century constructing a 130-room main house and three guest houses to hold them. From the 1920s to the 1940s, Hearst invited just about every celebrity in California to spend a week or two. One who turned him down: Shirley Temple, whose mother wouldn't let her come because Hearst lived there with his mistress, Marion Davies. (Notwithstanding his own example, Hearst refused to let any other unmarried couples cohabit under his roof.) The guided tour lasts about 1:50, half an hour of which is spent just riding a tour bus up and down from the visitor center to the house, 1600 feet above the sea level visible from every east-facing room.

I continued south on Route 1 through the town of Cambria, where a municipal lawn-bowling park across the street from a municipal skateboard park makes it the only town in America with facilities for both elderly Italian grandfathers and their grandchildren. A local radio station seemed to be operating on autopilot -- no announcements, no commercials and an apparently random playlist that ranged from Jimmie Rodgers to Air Supply to show tunes someone of a different sexual preference might recognize. It also played Patti Page's "Tennessee Waltz," which I know mostly from the Spike Jones cover version sung in a thick Jewish accent.

When Route 1 intersected US 101 at San Luis Obispo, I turned north toward Paso Robles. Before stopping for the night, I drove 25 miles east to photograph the memorial erected at the site of James Dean's fatal auto crash, in front of a roadhouse on a featureless highway so sleep-inducing that drivers are urged to keep their headlights on during the day to alert oncoming vehicles.

Tomorrow: back to the Bay Area and more of Route 1. Later...



---
Go to the next day
Back to NEWS FROM THE ROAD menu
Back to ROADSIDEPHOTOS.COM home page